Center for Youth Program Quality (CYPQ)
CYPQ Creative
About CYPQ
The Center for Youth Program Quality (CYPQ) produces several assessments that are used to evaluate the quality of out-of-school time organizations such as after school programs.
Media Genesis wrote a custom software platform which allows the clients of the Center for Youth Program Quality to record and aggregate the data of the assessments. Reports can then be run by the clients against the aggregated data in order to evaluate the quality of their organization over time and against large sample data sets. With the custom back-end of the software, CYPQ can quickly add new assessments, control client access to the assessments, manage client
accounts, and export the collected data for use in other applications.
Dashboard
A Dashboard built into the Scores Reporter provides quick access to data about the completion rate of assessments.
Form Editor
The Assessment Editor is one of the most powerful features available to CYPQ. It allows for the creation and maintenance of assessments and other forms. Each question in an assessment has a number of editable properties to affect how data is entered into that question and how that data is displayed in reports.
Reporting
A front matter for a report generated by the scores reporter system. A "Front matter" shows what the report is, how to read the report and ideas on how to interpret the data in the report. The front matter is produced from a HTML file, allowing new report cover pages to be created using standard technologies.
Most reports contain a bar graph which issued to compare the different data sets in the report. In addition to a graph, tables break down the data in reports into various degrees of detail.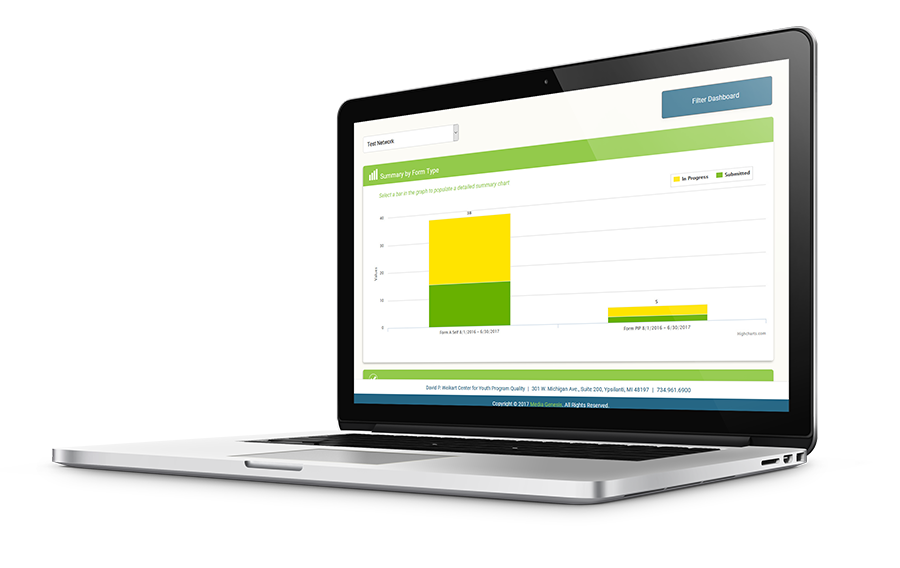 Report Generation
The Scores Reporter provides three levels of report generation. Shown in the example is the basic reporting, which is designed for easily comparing small amounts of data.
Saved Work
Every user of the system can access an interface to view and edit relevant assessments. This page also contains a set of tools to filter the list of assessments by several types of attributes.
Conclusion
With the new Scores Reporter, CYPQ and the non-profit organizations they serve have seen the greatest benefit. Key improvements that contribute to this increased success include:
CYPQ is able to respond to their clients significantly faster than with previous versions of the software
Custom forms can now be created in a fraction of the 40-60 hours of custom reporting required in previous releases
The customization built into the software allows CYPQ to be more efficient with their time and budget. CYPQ can serve smaller subsets of clients significantly faster, increasing ROI and decreasing resources required over time