Wayne County NETS App
About Wayne County
Wayne County is comprised of many major cities in Michigan including Detroit, Plymouth, and Dearborn. With nearly 1.8 million inhabitants, Wayne is Michigan's most populated county.
The Wayne County Department of Health, Veterans and Community Wellness (Wayne County) was established to provide and administer public health,
education, and health care preparedness to its residents and community in order to address the social determinants of health and community wellness.
Wayne County needed an application compatible for both iOS and Android phones to provide the residents of Wayne County with information on any
public health matter that compromises the health and safety of the community. The application serves to provide public health alert push notifications,
education on health and related threats, location services, and safety news within the Wayne County area.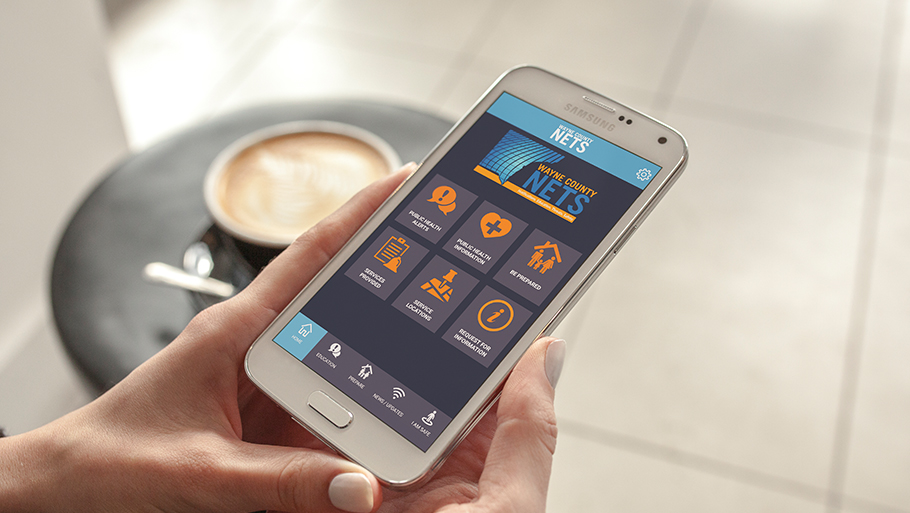 What We Did
Before development of any app, we architect and outline how the application's content will be organized, structured, and shared across user devices. Keeping in mind Wayne County's goal to conduct external communication with the public, this effort included utilizing a real-time data feed with Wayne County's website and integration with Amazon Web Services to provide urgent public health alerts with push notifications.
We developed the app Wayne County NETS (Notifications, Education, Threats, and Safety) based on the requirements provided to us from Wayne County.
This app works in four parts:
An alert notification system for use during public health emergencies
An information tool to educate users on health education, threats, safety news
and public health happening in the Wayne County area
A map of services offered by the county health department including locations
of public health offices and services provided
A platform for the community to share information and safety in the event
of an emergency as well as learn more on how to be prepared for an emergency
The application is compatible with iOS 9.0 and newer for Android 4/4 and newer.
The Development Process
Workflow
This process diagram, known as a workflow, displays the planned functionality of the buttons on the home screen and how those buttons direct the user through the app. The workflow also shows the organization and structure of the app's functionality and what will be visible to the user on the screen.
This workflow displays the functionality of the app's main home screen navigation. It also notes what and how the information will be pulled into the app. In this case, some of the content was being pulled from Wayne County's website, as depicted by the JSON feed notations.
Wireframes
Wireframes connect the structural concept of the app to the visual design. It is an implementation of the design into the screens planned from the workflow.