Benefits and Challenges of the New WordPress Gutenberg Content Editor
Since WordPress was released in 2003, its core content editor for posts and pages has changed very little. Looking back, the vast majority of changes to the content editor came from third-party plugins. However, a major change is right on the horizon.
The new Gutenberg editor, named after the printing press inventor Johannes Gutenberg, brings a completely new content editing experience to WordPress.
So How is Gutenberg Different?
Designed to compete with hosted solutions such as Squarespace and Wix, Gutenberg is a block-based content editor. Traditionally, WordPress content editing was about editing pages of text with a handful of images mixed in. Short codes were a special type of syntax that allowed for more complex content to be embedded in a post, but that content had to be edited elsewhere in the WordPress admin.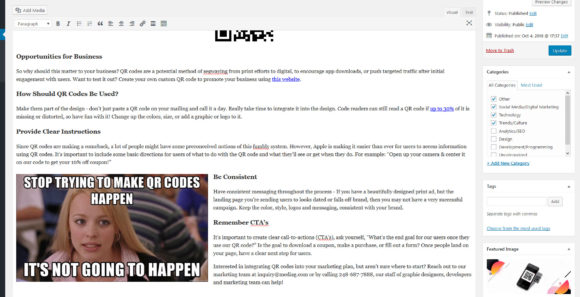 Now, a Gutenberg block can contain and allow the editing of just about any type of content. By default, blocks exist for text, images, headlines, spacers, quotes, and even wrappers for other blocks.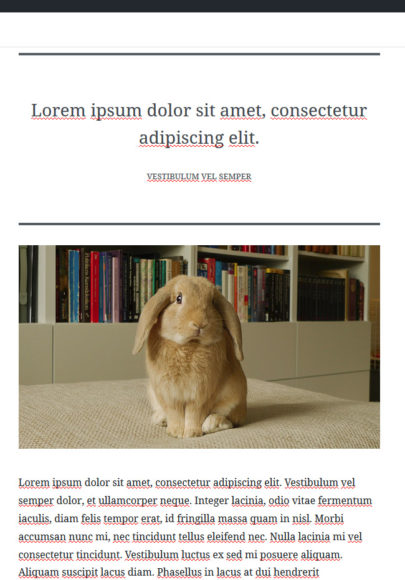 While complex layouts, such as multi-column layouts and full screen background images were possible to add into the HTML editor, the WordPress content editor support for these features could be shaky in the previous versions. Any third-party page builders which implemented these features often did so with a complex system of WordPress short codes.

With Gutenberg, these layouts are now natively supported with blocks. Plugins and themes can add their own blocks to extend the layout and editing capability of Gutenberg.
Challenges of Gutenberg
Gutenberg will cause an assortment of challenges for existing WordPress sites. First, the interface for editing content is radically different, and it has a different design philosophy. Some of the options for a block can be found in a sidebar, where others are hidden under a context menu that is available after clicking on the block.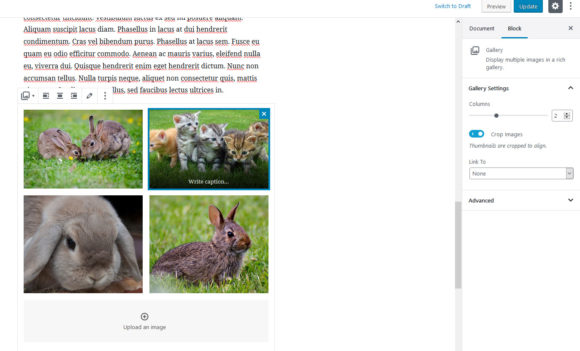 In addition, certain features from the previous editor are no longer available in Gutenberg. The custom meta fields, which allowed the addition of extra data to WordPress posts and pages is no longer included. For sites that rely on this feature, this will be a critical issue until plugins are robust enough to fill this role.
Another challenge is that plugins need to be updated by their author to be compatible with Gutenberg. Until all of the plugins used by a site are updated, it may not be possible to upgrade to Gutenberg. If a site is using an old plugin which has been abandoned by its author, but a function of the site is still relying on it, development work may be needed in order to update a site to Gutenberg.
When performing an update to Gutenberg, it is important to have a developer completely check each page of the website to be sure the update doesn't break the site's layout. Best practice is to have a copy of the website in a development environment to perform the initial testing, rather than updating on a live website.
Another challenge specific to the front end is that CSS modifications could be needed to fully use Gutenberg. While the editor ships with some basic CSS code to use its new layout features, it is quite possible that this stock code will not fit quite right with existing site layouts like in the example below.

What If I Don't Want to Install Gutenberg?
There is one option, but it is only a temporary solution. All WordPress sites will need to be updated to 5.0 to make sure they get all required security updates. With the release of 5.0, a WordPress produced plugin called "Classic Editor" Plugin. WordPress 5.0 and later sites are able to use this "Classic Editor" to operate without installing Gutenberg.
However, the WordPress team has stated that this plugin will only be supported until 2022. Therefore, it should only be used as a bridge until the website can be updated to function with Gutenberg.
Should you start looking at modifications to your WordPress site to accommodate Gutenberg? Not sure where to start? Our team is well-versed in all things WordPress (as well as its constant updates and changes). Reach out to us via phone 248-687-7888 or at inquiry@mediag.com to learn more about how we can keep your site updated, secure and looking great!