2 Million+ Video Views Push Detroit Baby Business to New Heights
The MediaG Video team has been busy this spring filming numerous events in and around Detroit. Recently, we had the opportunity to help Secure Beginnings, a Detroit-based business, with their video submission for ABC's, Shark Tank.
If you're not familiar with the popular show, Shark Tank is a reality series that features a group of multi-billionaire investors who are looking to invest in people and their products. On the show, contestants "pitch" their product or service to the investors, aka "The Sharks." The goal is for the contestant to receive an investment for equity in their company from one or more of the high-powered men and women. Whether or not the contestants receive an investment, their products are featured on the show, and past contestants often see a huge influx of demand for their product.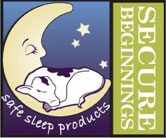 What is Secure Beginnings?
Detroit-based Secure Beginnings is on a mission to create a new standard in safety for crib mattresses. The company manufactures an air permeable – breathable – crib mattress to prevent infants from asphyxiating on their fiber filled crib mattress should they roll to their tummy in the middle of the night.
The three founders, a pediatrician, an automotive safety designer, and an interior designer, believe that back sleeping is best for infants, and because infants tend to roll – some as early as two-months old – having an air permeable mattress prevents sleeping babies from rebreathing too much carbon dioxide. In fact, the data on the air permeable crib mattress by Secure Beginnings supports earlier peer-reviewed publications, demonstrating significantly lower carbon dioxide accumulation when compared to fiber filled mattresses. The evidence is strong that air permeable mattresses are preferable to fiber-filled mattresses.
Secure Beginnings is proud to call Detroit home and be a part of the revitalization and growth within the city. Their office and warehouse is tucked alongside the Riverfront District on an un-even, brick paved street that was once home to the historic Stroh's Brewery Company. The business was established in 2010 but the idea and passion behind their product was founded from tragedy.
Co-owner of Secure Beginnings, Julie Andreae, and the two other founders, all share a tragic experience – each lost a loved one due to Sudden Infant Death Syndrome (SIDS). The invention of a breathable crib mattress is a special tribute to all babies who died from being asphyxiated in their cribs.
Getting ready for Shark Tank
Secure Beginnings was one of the lucky businesses who had been accepted into the first round of submissions. A great accomplishment, but not a guarantee that Julie would be pitching her product in front of the Sharks on national TV. In this show, after contestants have made it through the first round, they are required to submit an informative and/or entertaining video that features their business and their pitch. With only three days to spare before the video-submission deadline, Julie knew she needed an extra special video that would impress the producers. It was critical that her video would stand out from the competition and showcase her amazing product. So, Julie reached out to Media Genesis to produce her video submission. And we went to work. All we can say is that a lot can be accomplished in three days!
Secure Beginnings video shoot
Day one: we get the call to produce the video.
Day two: we're on location at 7 a.m. in the D.
We started the day by shooting the business's surroundings. We walked up and down the quiet street filming the historic cobblestone brickwork, the deserted warehouses, and the glorious view of the Ren Cen towers, all against the backdrop of the pink, morning sky.
We met Julie, who was just as excited as we were, and she led us into her amazing building.
We found the interior of Secure Beginnings cozy and artfully decorated; a large conference room for client meetings, an office area, an assembly workspace, and an organized, well-equipped warehouse. We thought, "This does not look like a start-up company!"
While Julie worked with some of the video crew members to give an interview, Kelly, Julie's counterpart, gave the producers a demonstration of the products. He showed us prototypes for new products they are working on and walked us through how he carefully assembles each order from start to finish. It was evident that these owners had true passion for their work and believe wholeheartedly in their products.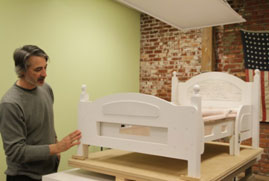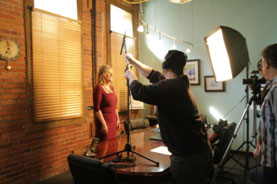 In addition to Julie's interview and the product assembly demonstration with Kelly, we also filmed a mom and baby that day! After all, Secure Beginning's end users are babies!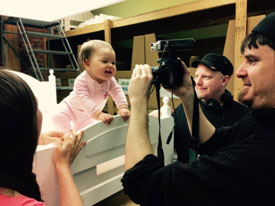 At first, we were a little concerned about filming a baby due to the very tight filming schedule. As we all know, getting a baby to sit quietly and smile or look directly into the camera is not easy. To our surprise, the baby was the star of the show! We found her a pleasant delight and she loved the camera. She was a professional; she gave us nothing but adorable cheeky smiles.
After a full day of filming the video team headed back to the Media G offices in Troy to start the editing process. The tight schedule only allowed for one full day of editing. Just hours later, we showed Julie the finished video at our offices. She was thrilled and amazed that we were able to create a compelling video in such a short time frame. She rushed to the local post office and shipped her video submission overnight to ABC. Minutes mattered here. If it didn't get to ABC's studio on time, the work we all did would have to be shelved for some other time.
Waiting for the call
While Julie waits to hear if she is going to Hollywood to pitch to the Sharks she decided to post a few of the video clips and photos Media G produced on the Secure Beginnings Facebook page (Sorry, we can't show you what Julie submitted to Shark Tank… not yet anyway!)
Before the Media G video shoot, Secure Beginning's Facebook site had 18,000 followers. Now, after the video clips and video stills were posted, this site has now over 30,000 Facebook fans! The video clips that demonstrate how the breathable crib mattress works received 2.2 million views. Incredibly the video was shared by over 3,000 people in just the first three hours it was up! To date, there are over 11,000 people talking about this product.
The impact of these compelling images and video footage has helped Secure Beginnings triple its sales.
That's right – sales have tripled at Secure Beginnings.
Best of luck!
We hope to see Julie pitch Secure Beginnings to the Sharks. With Shark Tank having over 6 million views per episode and being ABC's #1 show, we anticipate a good deal more traffic on their website!
You can also watch our interview with Secure Beginnings' co-founder Julie Andreae on our YouTube channel.