Money-Saving Apps and Tips
I realize it's March, and most everyone has already abandoned their New Year's resolutions – but not me! My New Year's Resolution was to create a monthly spending budget and stick to it. So how is a millennial DINK (Dual-Income, No Kids) like me supposed to stick to a tight budget consistently? Technology, obviously. Technology doesn't need to be my demise (online shopping), it can be just the thing that keeps me on track!
Aside from the unavoidable payments like housing and utilities, my budget had to be able to cover food (including for my dog), gas, household needs, and spending money for the entire month. After much deliberation, I decided my monthly budget needed to be about half of what I was normally spending each month on the same items. I also had to reallocate how I spent money with my new budget, so I did a comparison of how I spent money before the budget and how I will have to spend it now: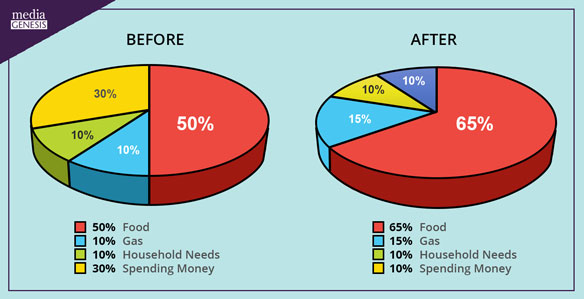 Here are some of the ways I've been sticking to my budget for these last three months:
My Favorite Apps
Ibotta
This is a great app that earns me cash back on purchases I make on everyday items. Their categories of stores range from Grocery, Mobile Shopping, Clothing, and Crafts. For example, I shop at Kroger for my groceries most of the time. Before I head out, I check if any of the deals match my grocery list. If they do, I add them, and can redeem them when I get home by snapping a picture of the item barcode and my receipt. Since I craft a lot, I always check Ibotta for deals at Joann Fabrics. They usually have 15-20% cash back on any purchase, so by buying what I need and uploading my receipt, Ibotta is easy money! I can withdraw my savings directly to my bank account through Venmo or PayPal or get gift cards to national retailers or restaurants. Since downloading the app, I've earned more than $170 in cash back that I've put right into my savings account.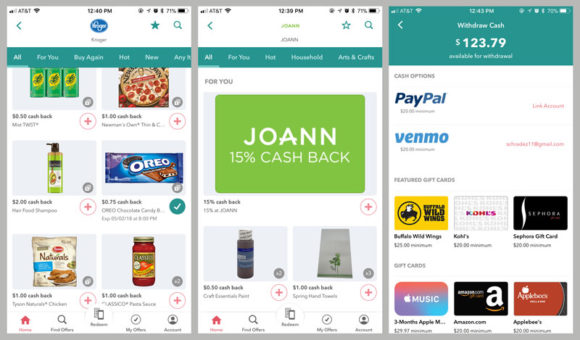 Target/Cartwheel
This is a handy app that you carry around with you while you're shopping at a place that most of us can't resist buying a few extras: Target. Before a trip to Target, I peruse the Cartwheel app to see what deals are running. The savings can be between 5-50% off name brands and Target brands alike. If there is a product I frequently use that has a sale, I can add that item to my saved offers. This app is great even if you aren't as prepared: you can scan barcodes of everything in your cart to see if there is a deal! So as much as my husband shakes his head when I say "No, wait! I have to scan it first!", we've saved quite a bit of money on everyday items that we frequently buy like shampoos, food, and even clothes. So far, I've saved over $200 with Cartwheel!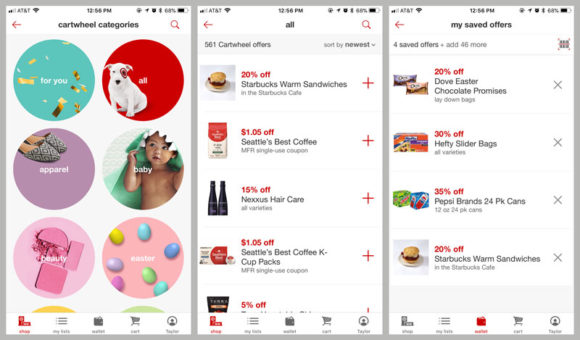 Extra Tips for Saving Big
Wish Lists
Instead of hitting the dangerous "Buy Now" button (*cough* Amazon *cough*), create wish lists of items. By not immediately purchasing items I thought I "needed" and saving them in a wish list, I was able to sleep on it, and usually forgot about the item by the next day. Once or twice a month I review my wish lists and end up deleting most of the items! The few items I end up leaving on the list are perfect for sharing with family and friends when birthdays or holidays come around.
Coordinate the Savings
Coordinate your apps. Check all your money-saving apps for deals you can stack up on. Several times I have found deals like this one: Ibotta has a cash back deal for $0.50 back on a bag of tortilla chips, and Kroger has a $1.00 off that same bag of tortilla chips. By combining your deals, you're saving $1.50 on those tortilla chips.
Make a List
Create specific grocery lists – and stay focused. It's easy (and treacherous) to walk into a grocery store without a plan and somehow walk out with every item they sell. To keep myself on track, I only go to the aisles I need something from. If you're notorious for grabbing extras left and right, set an "extras" limit. Only 1 or 2 non-list items per trip. That way, your trip doesn't end up unintentionally like this or this.
Have you tried any of these money-saving tricks? Which ones have worked best for you? Let us know on social on Facebook or Twitter (@MediaG).