The Great Debate: Which Web Browser Reigns Supreme?
As you probably already know, when you buy a new device– whether it's a phone, tablet, or computer– it comes with its own set of pre-installed settings and applications, including a web browser. With Microsoft PCs, you'll often find that the default browser is Internet Explorer. Or, if your device has the latest Windows 10 Operating System, your default browser is Microsoft Edge. This is also the case with Apple (Safari) and Android (Google Chrome) products.
You do still have a choice, though. Even if your device comes with a web browser already installed, you can download your preferred browser– and there's no reason not to. Whether it's for better security, speed, or greater flexibility through customizable add-ons and plugins, the right browser can have a huge effect on your online life.
What Browser Reigns Supreme?
According to W3Schools, Google's Chrome is the most used browser in 2017, distantly followed by Mozilla's Firefox.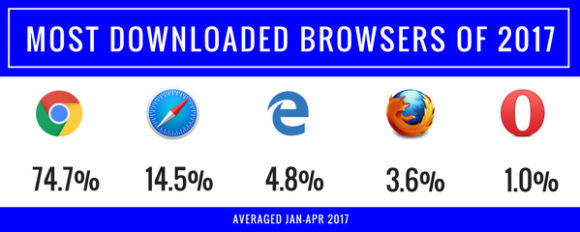 But which browser is actually better? We studied and compiled a quick overview of the most popular web browsers to help you make the right choice.
Google Chrome
Chrome has a sleek, cross-platform design that is stable and conveniently presented to take up the minimum screen space.
It also has a wide range of extensions and features users can install to further customize the browser. Additionally, it gives users the ability to link their Google accounts, ensuring maximum efficiency. With all of these customizable features, however, Chrome is among the heaviest browsers in regards to RAM. Also, some users have concerns about the amount of data they are giving to Google.
Mozilla Firefox
Although not as popular as it once was, Firefox is similar to Chrome in its flexibility and wide array of available extensions. Like Chrome, the browser is updated regularly for security and monitoring.
Firefox also includes a feature called Tracking Protection. This feature minimizes hidden third parties from tracking your browsing activity across many sites. According to Mozilla, "Firefox won't save things like your browsing history, searches, or cookies, but it will keep new bookmarks and files you download."
More recently, Mozilla launched a feature that shows the user non-secure websites with a red strike through the URL bar to help them make better choices when surfing the web.
Microsoft Internet Explorer (IE)
Internet Explorer (IE) has had its ups and downs since its creation. The once leading browser of choice ran into big issues when Microsoft integrated IE into Windows, forcing their users to use IE and making it difficult to uninstall and use another browser.
Fast forward to today, IE has made major strides with the latest version of their browser: IE11. The browser is fast and powerful, and it uses less RAM and CPU than its competitors, Firefox and Chrome.
It also has a modest look, featuring a single bar which works as an address-search bar and search box (using Bing).
On the more technical side, web designers aren't the biggest fans of IE. It sometimes breaks their web design and often requires hours of design adjustments just so it looks similar to other browsers. It also doesn't help that IE is the butt of every browser joke either.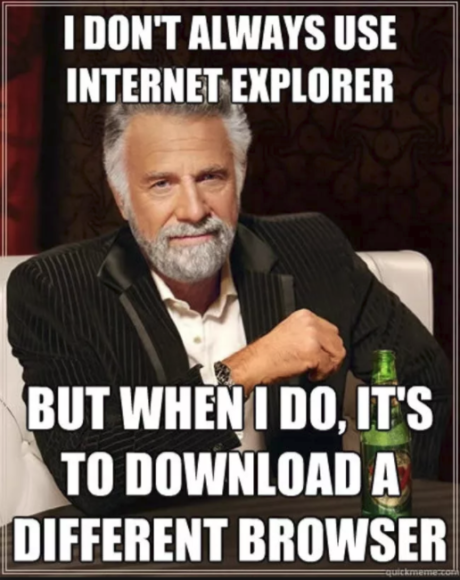 Microsoft Edge
Edge, the newest Microsoft browser, resembles IE11 but features less icons and a streamlined toolbar designed to mirror Microsoft's new Windows 10 aesthetic.
The default Windows browser includes platform-specific features such as Cortana and has a reading view, which allows users to see time spent on pages.
One downside to Edge is their lack of extension capabilities and limited customization options.
Safari
Safari is the integrated browser for Apple computers and devices. Its native design mirrors the look of Apple devices and it has a unified aesthetic that is pleasing for Apple or Mac product owners.
It also features Push Notifications which allow websites to send alerts to the Notification Center and then to their users.
Safari also uses fewer resources (CPU and RAM), similar to Microsoft's browsers, leading to less power and battery drainage. The speed and performance of Safari, however, is much slower than Chrome.
Selecting the Right Browser
At the end of the day, it's important to choose a browser that works best for you. Whether you're looking for the best speed, load time or cloud-syncing features, it's important to look at all aspects of each browser to ensure it provides everything you want.
For more detailed information on the top leading browsers, check out this browser summary chart that highlights each of their available features.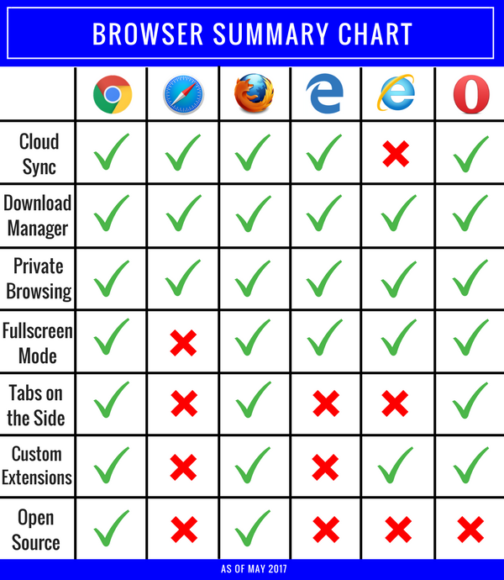 Does your business use one browser and your audience use another? We can design and develop a website that fits all your needs. Call us at 248-687-7888 or email us at inquiry@mediaG.com today to find out how we can help your business thrive in the digital world.