On Location with MediaG. MG Goes to Pittsburgh for Health Network Video Shoot
October 29th, 2015
|
The Media Genesis film crew traveled to Pennsylvania this summer for an exciting video project for Allegheny Health Network (AHN).
The summer 2015 video shoot included the filming of physicians, surgeons, staff members, and patients for three of AHN's top, nationally-recognized Institutes: Bariatric and Metabolic, Cancer, and Neuroscience. Over 30 videos were crafted and produced by MediaG; most are available on the AHN website and on AHN's YouTube Channel.
While in Pennsylvania, the film crew did a bit of location scouting, too. It was important to create the most visually interesting backgrounds to bring the interviewers' stories to life. So, the team was constantly on the move, setting up their video shoot in various places, from boardrooms to patient lounges to an unused medical wing. There was a lot of outdoor shooting, too (thank goodness for beautiful summer weather). In the end, the assortment of settings helped tell a meaningful and personalized story for each patient.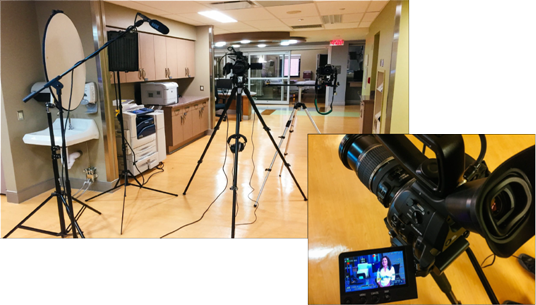 Behind the Scenes
MediaG's film crew had a lot of gear to pack for this week-long jaunt – video cameras, boom poles, mic stands, light stands, lights, reflector umbrellas, lenses, headphones, laptops, and don't forget the shotgun mic.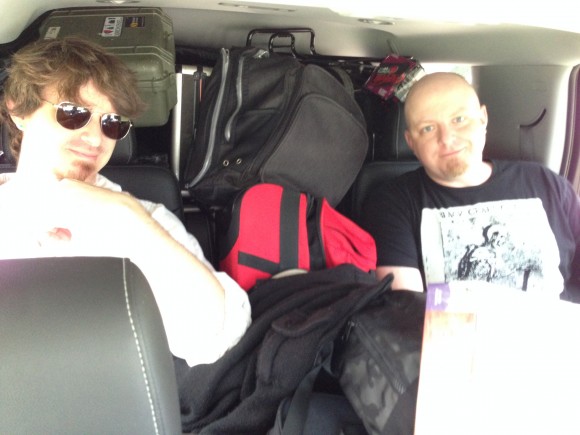 The MediaG film crew had its work cut out for them. The days were long and included weekend work. The film crew got to see a lot of the Pittsburgh area. Well, when they weren't sleeping.

Bariatric and Metabolic Institute (BMI) Video Shoot
As we all know, obesity is a serious medical condition that affects millons of Americans. What you may not know is that AHN is known throughout Pennsylvania and the U.S. for its innovative and personalized weight loss care and treatments. The film crew traveled to West Penn Hospital and Jefferson Hospital to interview several nationally-renowned medical professionals and their actual patients who had bariatric surgery.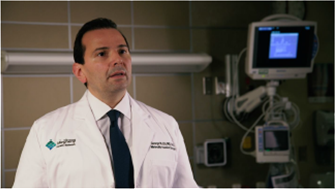 Dr. Eid serves as System Director of Minimally Invasive and Bariatric Surgery at AHN. Dr. Eid has helped establish national standards for one of the country's fastest growing surgical specialties.
MediaG interviewed Dr. George Eid, an AHN surgeon who specializes in minimally invasive hernia surgery and bariatric procedures. Dr. Eid's interview stressed how bariatric surgery can improve certain health conditions and significantly improve one's life. The crew also interviewed Dr. Tunc Asksehirli, Dr. Marr, a physician's assistant, the nurses on the bariatric unit as well as several actual patients who had underwent bariatric surgery (even husband and wife patients!).
The BMI doctors described their patients' specific health conditions and why they believed that their best chance at having a healthy, long life was bariatric surgery. Not only would it help alleviate the weight problem, but bariatric surgery is proven to reduce or eliminate many other health conditions.
For patient filming, past BMI patients discussed their uphill battle with their weight problem and described their feelings of hopelessness before coming to AHN's BMI. MediaG filmed several patient stories  each being 2-5 minutes in length.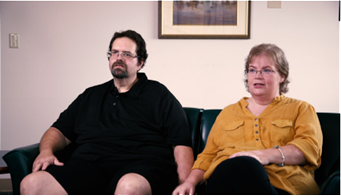 Amazing but true! This married couple both underwent bariatric surgery and on the same day at AHN! When this interview was taken, this couple was only a few months into their recovery.
All in all, the film crew also increased their knowledge about healthy living and the various health problems that result from obesity. As one MediaG Crew member said: "I never thought much about this health epidemic [obesity] and how it affects a person in their daily life. I learned a lot from these patients, and, I can see why AHN's Bariatric Institute is a Center of Excellence."
Neuroscience Institute Video Shoot
The second video shoot took the film crew to Wexford, PA. Wexford, a western county in Allegheny, and a growing community with a variety of subdivisions and developing neighborhoods. The film crew spent a few days filming Neuroscience doctors, staff, and patients in and around the Wexford area.
AHN's Neuroscience Institute is considered one of the most diverse centers as it treats all types of neurological conditions. Their specialities include the back and neck, brain aneuryms, brain tumors, epilepsy, multiple sclerosis, stroke and many more neurological conditions and diseases.
First, MediaG met and interviewed Megan Kruth who discussed her life-threatening head trauma suffered from a bicycle accident. Megan unfortunately hit her head on the concrete and had life threatening injuries. Megan was taken to the trauma intensive care unit at AHN and was under the care of Dr. Aziz for weeks. After undergoing a procedure, Megan slowly began returning to her normal activities. Megan said: "The people at AHN made a difference in my life, literally."
Filming took place at Megan's favorite place, the YMCA, and taping her loving her favorite activity – swimming.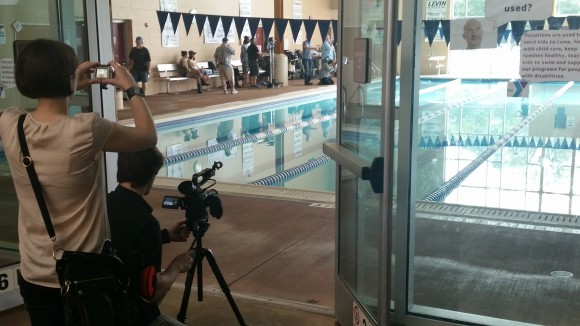 The film crew also got to shoot live underwater shots with special equipment, as well as slow motion filming for effect.
Website banner image showing Megan. See at ahn.org/neuro.
Down on the Farm
For the next interview assignment for AHN's Neuroscience Institute, the crew traveled west of Pittsburgh to the home and farm of Elmer Reed. The crew filmed Elmer on a farm stacking hay, feeding his cows, and riding his tractor.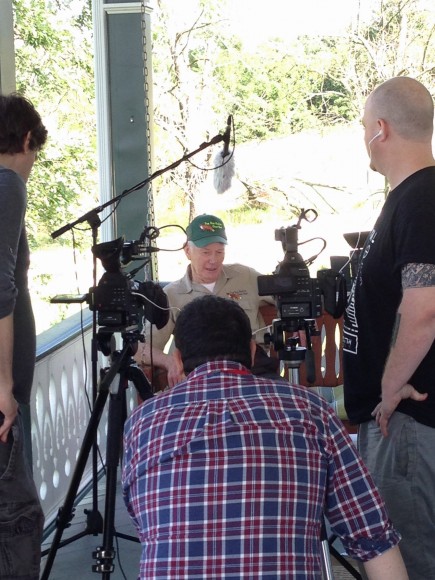 Elmer Reed's video shoot at a farm in Pennsylvania.
In Elmer's video, he recounts how he had fallen over a log at his working farm and how he hit his head. Unfortunately, Elmer began experiencing a series of strokes brought on by the fall. Elmer, an elderly gentleman, gets quite choked up as he relives this stressful time for him and his wife. His doctors, Dr. Azis and Dr. Williams, also appear on the video and talk about the seriousness of Elmer's condition. After receiving the proper procedure to repair the carotid artery, Elmer is back to living life normally on his farm thanks to the care he received at AHN's Neuroscience Institute.

Website banner image showing Elmer. See at ahn.org/neuro.
Check out all of MediaG's film crew videos for AHN's Neuroscience Institute here: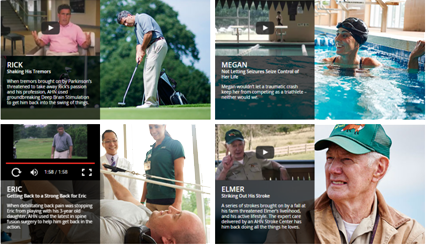 Cancer Institute Video Shoot
AHN is also known throughout the country for its exceptional outcomes in cancer. In fact, AHN'S Cancer Institute is a leading oncology program rated in the top 5 percent nationally!
The MediaG film crew was very excited to meet the doctors and specialists of the Cancer Institute at AHN. They interviewed several patients at some unique venues, including several suburban homes, a baseball field, batting cages and gardening scenes. The MediaG film crew also got to experience the human side of this Institute, too. When you interview patients and doctors for hours discussing life-and-death moments, you're bound to expose a range of emotions. And tears? Let's just say that everyone had to use a Kleenex at some point.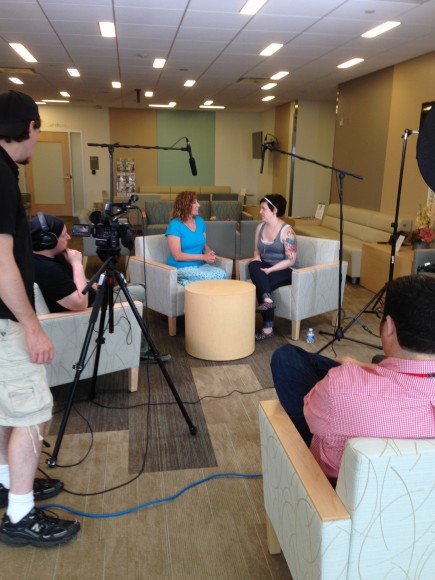 During the Cancer Institute video shoot, the Crew had the privilege of meeting an exceptional young woman. Emily Parise, who at her doctor's recommendation, received a biopsy on a breast lump. Emily and her family were shocked to learn that not only did she have cancer – but Stage 3.


Website banner image showing Emily seen at ahn.org/cancer.
MediaG 's video of Emily recounts her personal story and struggle to stay well and survive. Thanks to her surgeon, Dr. Buchbarker, who performed genetic testing, Emily also discovered that she had a brain tumor as well. Emily received a secondary diagnosis of Li Fraumeni syndrome; a rare, hereditary disorder. But the good news is that Emily was able to promptly get the surgery she needed and receive the latest drugs from AHN's Cancer Institute under her doctor's care. Today, Emily is a picture of health and happiness.
Check out all of MediaG's film crew videos for AHN's Cancer Institute here: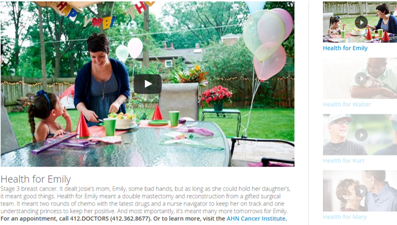 MediaG's Video Team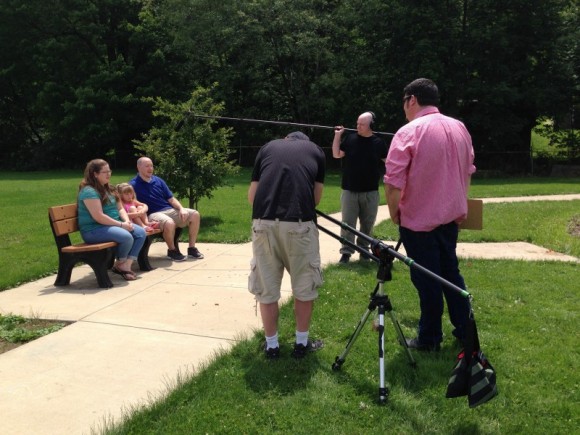 AHN Video Shoot-Summer 2015
Real people – real stories
MG Producer created all questions for medical staff and patients
MG producer performed all interviewing
MG used different film techniques for special effects
MG selected all musical tracks
MG handled all audio mastering
MG performed all video editing and encoding
Producer – Director of Photography – Audio Technician – Lighting Specialist – Post Production
MediaG's Video Team handles corporate videos, TV commercials, infomercials, web commercials, social media videos, pitch videos and much more.
Give Jim a call at 248.687.7888 or shoot him an email at jim@mediag.com and ask him what a great video from MediaG can do for your company.