Allegheny Health Network: Physician Interviews & Patient Testimonials
Allegheny Health Network is a fast growing network of seven hospitals that serves over twenty Pennsylvania counties and portions of New York, Ohio, and West Virginia.
Allegheny Health Network (AHN), formally West Penn Allegheny Health System, has been a client of Media Genesis since 2009. The Neuroscience Institute is one of AHN's most diverse centers as it treats all types of neurological conditions. In addition, their Cancer Institute is a leading oncology program and is rated in the top five percent nationally.
Media Genesis was enlisted by AHN to film physician interviews and patient testimonials for their Neurology and Cancer television and digital campaigns. The videos that MG produced would appear on their website and be featured in conjunction with their television and radio commercials. These physician and patient testimonials were developed to direct the audience to AHN's website where the user could hear more of the patient's story and learn how the AHN physicians successfully treated their conditions.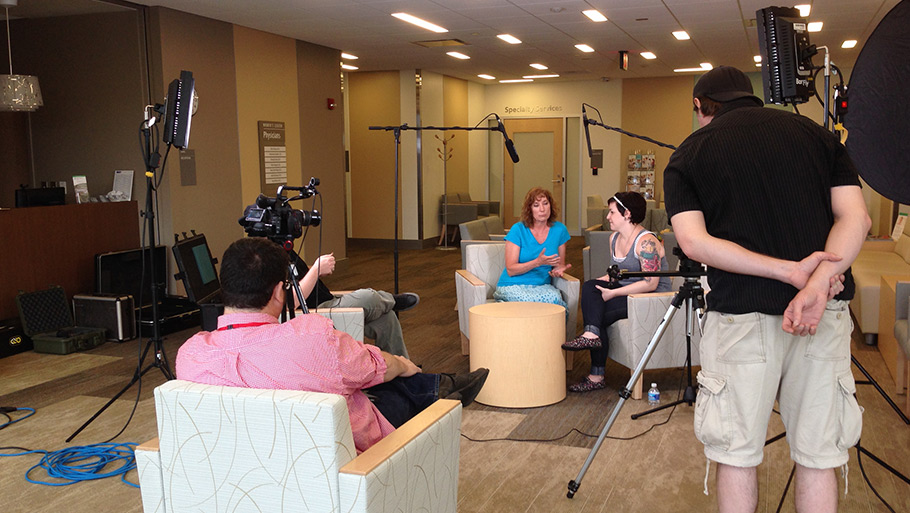 The MG film crew traveled to Pennsylvania to interview seven physicians and four patients and their family members. The staff at Media Genesis researched the institutes and was given background information on each patient's story to develop interview questions for each individual. Our own MG producer conducted the interviews.
Since the goal of the videos was to expand upon the patient stories, the interviews were filmed at locations unique to each individual. The film crew spent over a week traveling throughout Pennsylvania to the patients' homes as well as locations special to each patient such as their local YMCA swimming pool, a baseball field, and a family farm.
In total, the MG film crew produced eight videos documenting each patient's story as well as their physician's account of the procedures used to treat their conditions. The eight videos are currently featured on AHN's website within the Neurological Institute page and the Cancer Institute page.
To learn more about the videos that MG produced for this client, check out our blog. To view the videos MG produced, visit the Neurological Institute and Cancer Institute pages on Allegheny Health Network's website.