American House: Website Development & Improvements
American House Senior Living Communities has been servicing senior citizens in the United States for more than 40 years. Among their multitude of services, American House offers a variety of living styles, giving seniors the flexibility and autonomy needed to live their lives to the fullest.
Media Genesis partnered with American House in 2017 for a complete redesign and rebuild of the American House website. Since then, we have been continuously making improvements to their existing site.
Website Development & Improvements
Since the start of 2019, Media Genesis and American House have been able to complete several large-scale improvements to the functionality, navigation, and overall design of American House's website.
Our Communities
The Our Communities page was the largest of the American House website projects Media Genesis took on this year and required significant attention to detail. We altered the basic search functionality that was previously existing to include an embedded Google Map, location, and ZIP code-based search support. For search query matches, we updated the search results display page (including updating the pins on the Google Map).
So, what does this mean in laymen's terms? It means that users who want to explore the 50+ American House locations throughout the United States can now do so via ZIP code or location as well as US state.
Searches can be filtered by the type of care the user is looking for (e.g. independent living, assisted living, hospice care, etc.) as well as by site amenities. Users can select up to three amenities he or she would like to have in their prospective future home.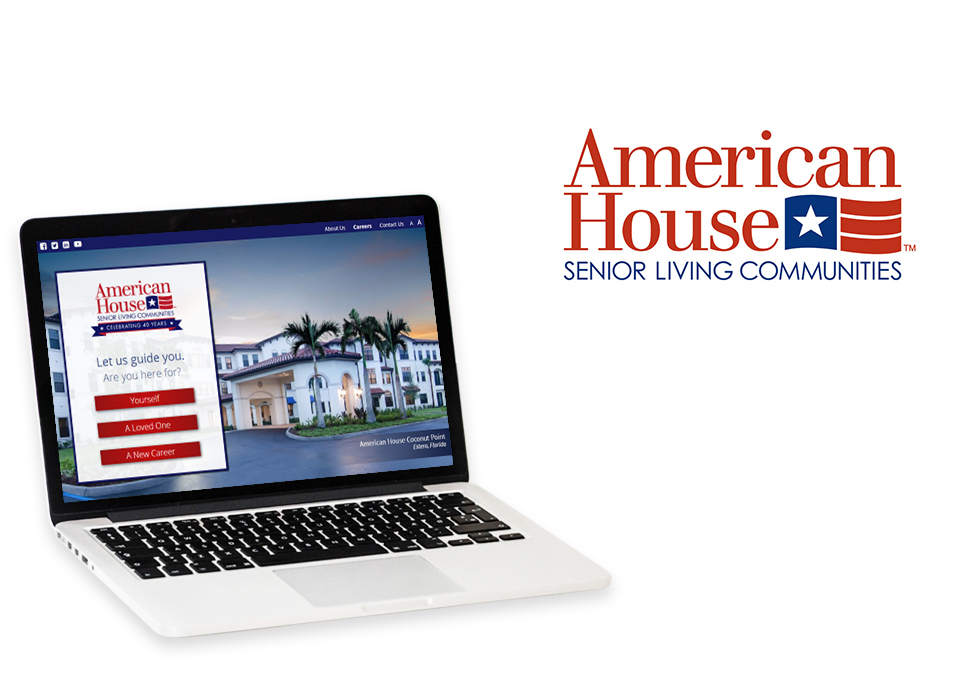 Can I Afford This?
The "Can I Afford This?" page, which can be found under the main navigation item "Getting Started," was also added to the site this year. American House understands the confusion and fear that can come hand-in-hand with determining the affordability of senior living, so they wanted the most important information to be front-and-center on their website.
To answer this need, Media Genesis created a single page with all the most important information in dropdown lists, so users can find out more about each of the financial assistance programs and services available to them.
Additionally, we created a Resources content block for the website that allows users to find a community directly from the "Can I Afford This?" page. Once a community has been selected, the map and search functionality disappear and are replaced with other helpful tools like contact information for the selected community and American House blog posts.
Types of Care
Similar to the "Can I Afford This?" page, the "Types of Care" page (which can be found under Care & Services in the main navigation) was built to create a convenient location where users can quickly find out about all the living services and facilities American House has to offer.
Users can read up on independent living, assisted living, memory care, respite care, or hospice care, and then select the option they are most interested in to find out more.
Locations & Branding
Together, Media Genesis and American House also created new, custom designs for specific communities. Park Place, an American House community located in Warren, MI, has its own black and gold branding that is widely recognized throughout the community. To merge this with the American House site, we created a custom page design for Park Place that includes its branded logo and color scheme.
We also created a new community template for St. Petersburg, American House's newest community that will be opening in Fall 2020. This community is still in the process of being built and finalized, so it didn't make sense to use the same template as American House's other communities due to the fact that St. Petersburg would have significantly less content available.
To solve this problem, a new template was built that incorporates the building process, all the amenities that will be available at St. Petersburg, as well as floor plan layouts that will be available. Now users are able to explore this community prior to its opening.
Schedule a Tour & Thank You Pages
Schedule a Tour pages were created and customized for each location so users can review custom information about each location, such as photos, as well as schedule a tour at one of the American House locations directly from the website. These Schedule a Tour pages also include a calendar date picker so the user can pick their preferred date and time directly. This functionality improved the previously-existing basic form and expanded it into a custom page for each community.
Upon completion, instead of creating a generic Thank You page, Media Genesis worked with American House to build custom Thank You pages for users to receive after filling out the Schedule a Tour and/or Contact Us forms.
When a user fills out one of these forms, they are shown the Thank You page with all custom community information, events, floor plans, and reviews. This is all displayed in one place for a better user interface/user experience and to promote longer time-on-page and interaction within the site.
Media Genesis and American House will continue working together in 2020, making updates and improvements to the website as needed. With so many great achievements to look back on, we are excited to make even greater strides toward improving the American House website and offering American House customers the best possible user experience.