American Society of Employers: Third-party System Integration
Media Genesis partnered with American Society of Employers (ASE), a not-for-profit that focuses on providing HR resources to companies throughout Michigan, to redesign and rebuild their existing website. Media Genesis has a long history of designing and building fantastic websites for our clients, and ASE brought with it the need for several key integrations. These integrations included a Content Management System (for site content), a Learning Management System (for e-learning content), and a Customer Relationship Management System (for customer information). All three systems needed to integrate seamlessly into the website in order for ASE to keep track of all content and client data. Clients can also log in to their custom dashboards to track all of their transactions and information.
Planning, Planning, and More Planning
It was clear from the beginning that this was going to be a large undertaking with significant planning involved in order to ensure every detail was accounted for with precision. MG began this process by plotting out the existing functionality so we could learn exactly how the system worked and how the three pieces (CMS, LMS, and CRM) communicated with one another on the back-end. We discovered that, in addition to these three systems, there were external processes at work to keep everything functioning properly and all of the systems in sync.
From here, we were able to move on to design and development with confidence, knowing exactly how the website needed to work moving forward.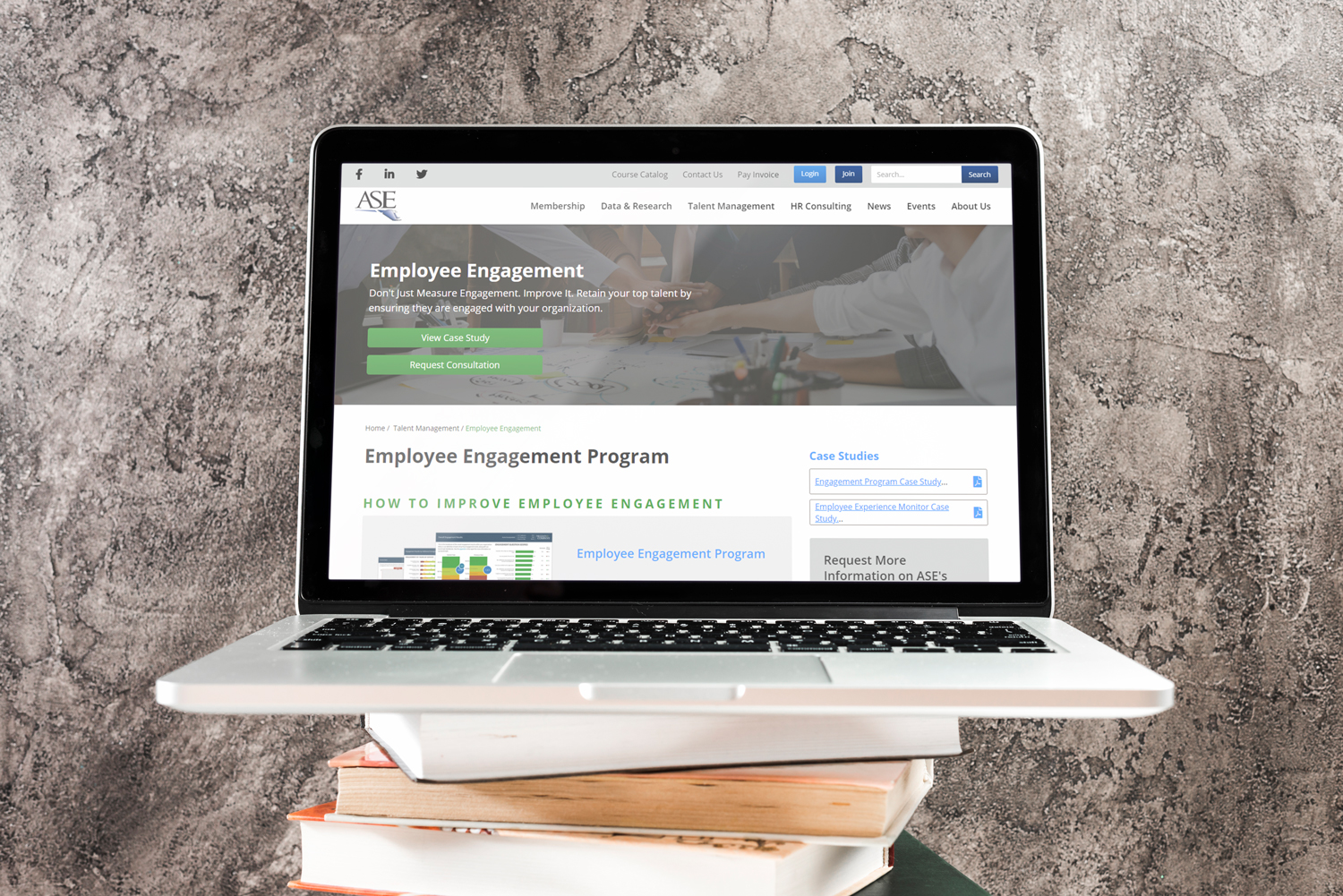 Functionality Improvements and Implementation
Prior to the website redesign, an ASE employee had to manually approve every person who created an account with ASE and match them to the proper paid company account. This means, ASE employees had to manually verify what companies were paying members as well as what individuals belonged under the umbrella of each of the said companies. This created delays in customer access to information and online courses (training, etc.).
Media Genesis created and implemented a new user automated set-up that created a more seamless experience for new user sign-up. Now users are put into a temporary "holding" company while their account information is processed and approved, providing them immediate access to items on the site without requiring a delay.
In addition to user setup, we also performed cleanup and enhancements for ASE's LMS system. Prior to Media Genesis getting involved, ASE had to duplicate their LMS catalog into their content management system known as DNN (DotNetNuke) so that users could browse courses. Then, when a user selected a course, they were rerouted to the LMS where they would have to re-select the course again. After having implemented the improved user setup, Media Genesis was able to create a username in the system right away that allowed the user immediate access to the LMS so he/she could browse freely (eliminating the need to duplicate the course catalog in DNN).
Since the launch of their new website, American Society of Employers has received positive feedback from clients regarding the improved design and user experience of the website. We are happy to have been a part of this experience with ASE, and we look forward to the next challenge that comes our way!