Cooper Standard Parts: Website Design & Development
Our Past Partnership
Cooper Standard Industrial and Specialty Group (ISG) and Media Genesis previously worked together to design and build the Cooper Standard ISG website. After a successful launch, we joined forces once again – this time to design and build a new Cooper Standard ISG Catalog Parts database, which would be a section living on the Cooper Standard ISG site.
CS Catalog Parts already existed prior to this project but was outdated and separate from the Cooper Standard site. Together, Media Genesis and Cooper Standard developed a completely new, user-friendly design with improved functionality and improved administrative access.
Design and Build
Due to the sheer size of the CS parts catalog, we knew we needed a CMS that had the capacity to cleanly and efficiently house this information and provide a foundation for a website that was simple to use and easy to navigate. Most importantly, the website needed to be capable of shifting through an immense amount of information (and quickly) in order to produce timely search results.
In addition to the website looking and functioning properly, Cooper Standard wanted to have the ability to update the parts database themselves once design and development were completed. We strongly took this into account when selecting a Content Management System (CMS).
In the end, we selected Drupal 8 as the CMS on which to build the site due to its customizability and scalability. Our design team created landing pages and interior pages that both reflected the needed site functionality as well as matched seamlessly with the Cooper Standard ISG design. From there, our developers began the building process.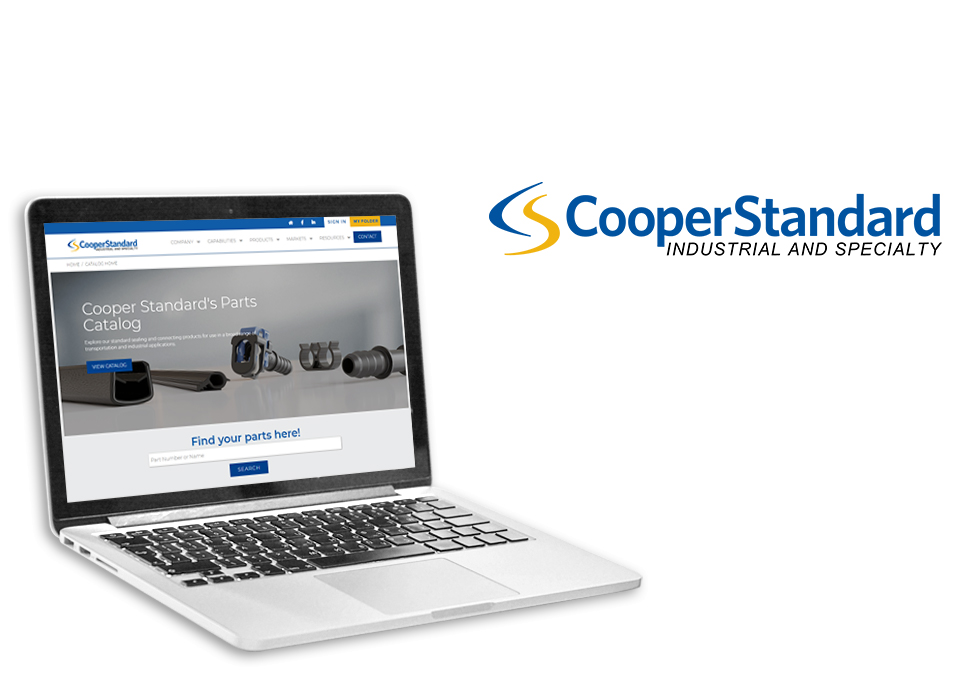 Downloadable PDFs
Cooper Standard expressed the desire to have downloadable PDFs for search queries. Cooper Standard wanted to make it possible for users to search for specific items and then download a PDF comparison of all items included in that search. This was, again, made challenging by the large size of website and the total number of parts offered by Cooper Standard (more than 1,200).
In order for the website to compile a detailed PDF of all 1,200+ parts, timing became an obstacle. The first run-through to create a PDF of the full Cooper Standard Parts library took nearly 45 minutes to complete. Knowing this needed to improve drastically, our developers worked carefully to edit and optimize the code responsible for the creation of the PDF, bringing the time needed to generate the file down to just under 30 seconds.
With another great website build under our belt, Media Genesis is proud to be moving forward with yet another project with Cooper Standard: the redesign of cooperstandard.com. We're excited to be able to continue this partnership and discover where this next project will take us.