Cranbrook Art Museum: Website Design & CMS Development
As one of the oldest art museums in the nation, the Cranbrook Art Museum is home to some of America's greatest artistic treasures. From Warhol to Lichtenstein, the Cranbrook Art Museum represents an important part of the Cranbrook Educational Community. Located in Bloomfield Hills, Michigan, the museum is infused with art and architecture and its presence is a focal point for the Cranbrook organization and the local community.
Cranbrook Art Museum first reached out to Media Genesis in 2014 to conduct an analysis of their current site and discuss plans for a redesign. We focused on updating the museum's website design while considering increased focus on usability, security and compatibility issues. In addition, through this process, Media Genesis sought to highlight past, present, and future art exhibitions. We created a development plan in line with our redesign aspirations which helped bring these changes to reality.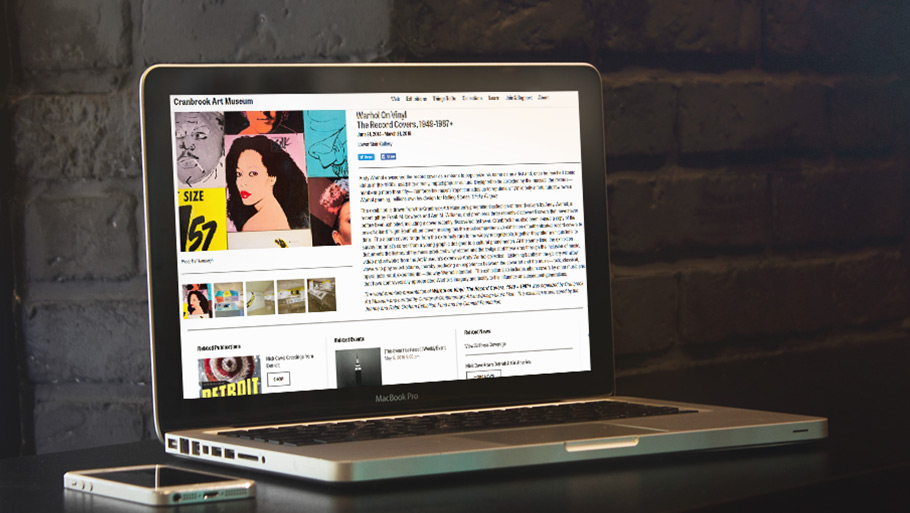 In late 2015, initial planning started on the redesign and development for the museum website. The project included an updated color palette and new font selection for the web.
In addition to the overall redesign, we focused on the functionality of the events calendar and implemented an e-commerce store for gift shop purchases, museum and event tickets, memberships, and donations.
To meet the client and design requirements for this site, we used a combination of WordPress plugins and custom post types. Woo Commerce, a popular plugin, powers the e-commerce portion of the site and gave our development team the flexibility to create a unique layout for the store pages.
For exhibitions, media images, and art galleries, WordPress' custom post feature provided the flexibility for custom solutions. These custom solutions allowed us to create unique data types and allowed these pieces of WordPress content to be displayed throughout the custom designed theme.
Cranbrook Art Museum's new website not only met, but exceeded all of the client's goals for the redesign and build. It launched in July 2016.