Detroit Future City: Website Redesigns
The Detroit Future City Strategic Framework was released in 2012, and those who worked so tirelessly on this plan did not want to see it sit on a shelf. A year later, the Detroit Future City (DFC) organization was created to ensure the successful execution of Strategic Framework vision. DFC is a local, nonprofit think tank, policy advocate, and innovation engine. Their offices are in downtown Detroit, right in the center of the action, making them ever-aware of Detroit's successes and (re-)growing pains. With priorities like Community & Economic Development and Land Use & Sustainability, DFC transforms the visions of the Strategic Framework into reality.
Making Detroit's Future a Reality
The DFC's main website needed refreshing and modernization. As a think tank with vast amounts of resources, data, research, events, and priorities, DFC needed to organize their valuable & impactful information into a more user-friendly format. They needed a site to reflect their modern and forward-thinking organization style. Our team created a sleek design that is simple and straight-forward.
Some of the key features and functionally of the new DFC website included:
Redesign of the entire site to follow new brand guidelines
Reorganization and custom filter options for news, events, media coverage, blog posts, and research
Created a simplified WordPress backend to make layout, copy, and image changes simple
Redesigned the home page to feature special reports, videos, contact forms, and other timely content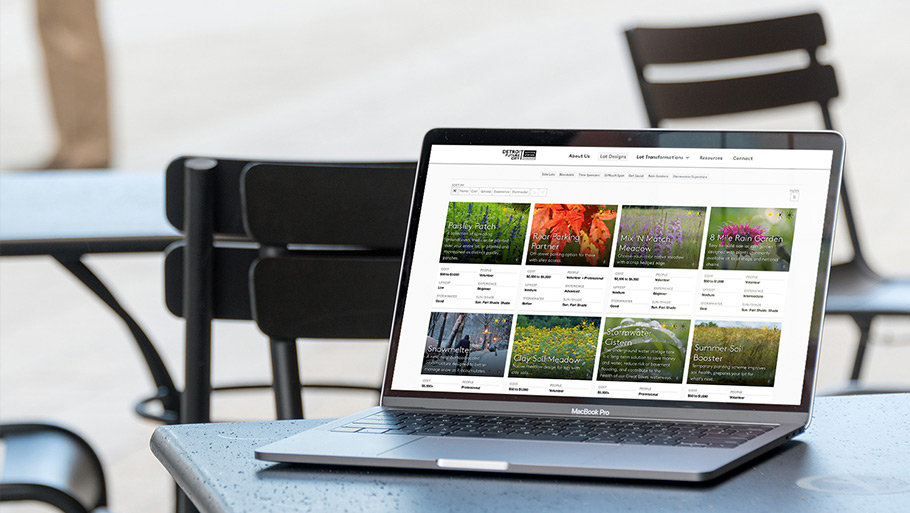 When One Website Isn't Enough… Build Another One!
One of their projects is such a large endeavor that it has its own website: Working with Lots: A Field Guide. This project helps Detroit neighborhoods repurpose vacant lots into community spaces filled with vegetables, flowers, and public art. With such a large and successful project, the Working with Lots: A Field Guide site needed to be able to display the designs available for people to use in their vacant spaces, but the site also needed to show off all of the amazing projects that communities have created with the help of the Working with Lots project.
Some of the key features and functionally of the new Working with Lots: A Field Guide website included:
Redesign of the entire site to follow new brand guidelines
Updated the filter toggles to be more visible and user-friendly on the Lot Design, Local Transformations, National Transformations, and DFC Designs pages
Created a custom filterable list on the Resources page to make the Helpful Organization easier to navigate
Work with Mailchimp plugins to add in multiple contact forms with form-specific fields on the Connect page
We had the opportunity to work with the Detroit Future City team on several different projects, where we also made it a priority to have consistent branding and styling throughout each aspect. Learn more about our asset creation and branding projects with the DFC team here.