Italian Trade Agency: Marketing & Website Development
The Italian Trade Agency is the government organization which promotes the internationalization of Italian companies, in line with the strategies of the Ministry for Economic Development. The role of the agency is to promote Italian culture and resources to countries and peoples worldwide. Media Genesis worked with the Italian Trade Agency and their Beauty Made in Italy campaign to develop a strong voice for promoting the Italian beauty industry and educating consumers on the innovations coming from Italian beauty creators every day.
Branding & Marketing
First thing's first, with an already unique and interesting voice, Media Genesis made it our mission to help ITA expand their reach and formulate consistent branding that would make their content more accessible to a wider audience. Starting in December of 2017, we ran a 12-month long campaign that focused primarily on search and display ads to put ITA's content in front of more eyes. And not just any eyes – the eyes of people who care about the beauty industry. By narrowing down the desired audience, we were able to create a marketing campaign that would have a greater impact.
We also scheduled monthly meetings with ITA in which we went over reporting and metrics reviews to carefully analyze the data. This was a great way to determine what areas of the campaign were doing well and what areas could use some improvement. By doing this on a monthly basis, we were able to eliminate problems as they arose and expand upon successes in a much more active way.
In the end, the campaign was immensely successful and brought significantly more attention to Beauty Made in Italy (and, by extension, the Italian Trade Agency) and their purpose. The site began to receive significantly more engagement as a result. Organic click-through rates were very high at 6.15% and all site keywords were within the first page of Google keywords.
Web Development
Media Genesis also assisted in improving some elements of the Beauty Made in Italy website, including implementing search engine optimization (SEO) and search engine marketing (SEM) best practices. These efforts worked in tandem with the marketing campaign to make the site content more searchable.
We also assisted in link building and researching key influencers in the beauty and Italian beauty industries in order to build stronger networking relationships throughout the community. By doing this, we were able to help ITA expand the reach of their already strong voice to reach an even greater audience.
Some backend optimization was also required to make the website more user-friendly, such as addressing "404 error" missing pages and completing redirects to make sure all content was easier to find.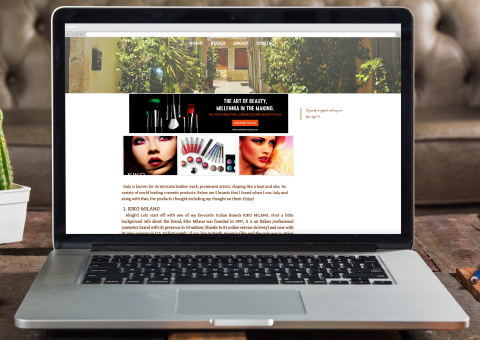 ITA and Media Genesis
Jenna Kennedy, the Marketing Coordinator at the Italian Trade Agency, spoke about collaborating with Media Genesis, saying:
"Working with Media Genesis was a pleasure from start to finish. The Media Genesis team has been so helpful, responsive, and reliable throughout all of our projects with them. We have been constantly impressed with the Media Genesis team and work that they do whether it be for our website development or search engine marketing. They do a great job of using their expertise and knowledge to make recommendations and are always sure to be very explanatory throughout the whole process. We highly recommend Media Genesis to anyone in need of their wide range of services."