James H. Cole Home for Funerals: Website Redesign & Development
James H. Cole Home for Funerals is a family-run funeral provider located in Metro Detroit. James H. Cole came to Media Genesis for help with the redesign and development of their main website.
Prior to working with Media Genesis, the James H. Cole website was a full HTML build, making it difficult for the team at James H. Cole to update the site without assistance from a website developer.
The James H. Cole team knows the importance of evolving and adopting new and better practices to better serve their community. To reflect this, they wanted their website to be more user friendly, easier to navigate, easier to edit, and upgraded to a more modern look and feel.
Website Analysis
We began the redesign/rebuild process by taking a closer look at website analytics, including a metrics review to analyze the site's stats and a benchmark to determine how the James H. Cole website compared to its competitors. We then used these findings to inform our final design and rebuild approach.
Customization
Right away, we knew we needed to address James H. Cole's inability to edit their own website. After providing our top recommendations, James H. Cole decided to move from a full HTML site to a custom-built WordPress site that would give them the freedom and flexibility to make edits, add content, and change graphics at will.
To make adding new web pages even easier, we built a custom page template for James H. Cole to use at any time. This custom template includes each of the individual content blocks found throughout the site, so administrative users can produce a page with just about any design he or she could want.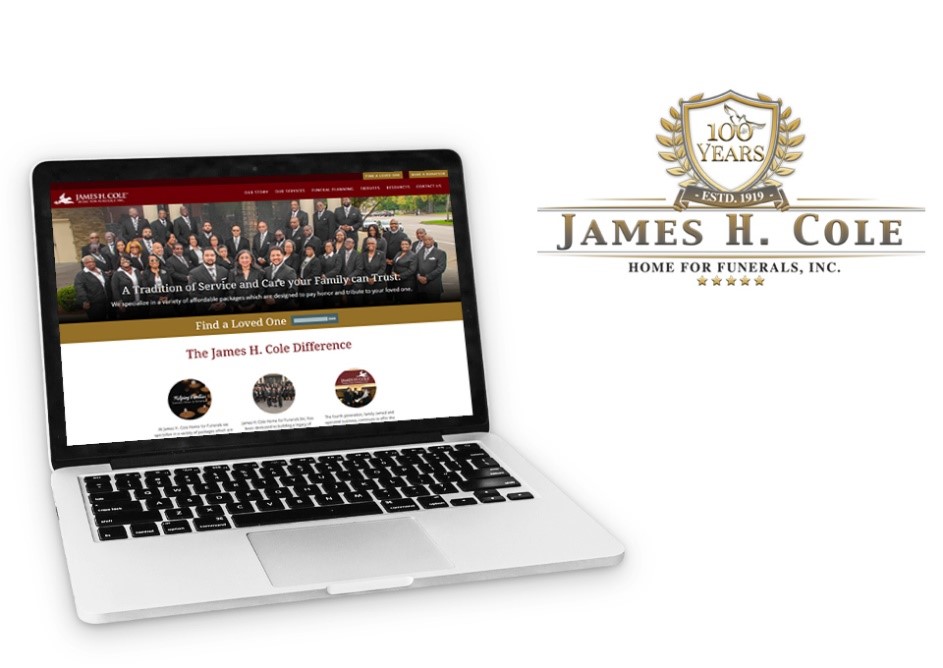 Navigation
The next step was to improve the accessibility of the website's content. To do this, we took another look at the site's navigation to see what could be rearranged for an improved user flow. Additionally, we wanted to use terms that were strong for Search Engine Optimization (SEO), while still being recognizable to the everyday user. We implemented SEO-rich metadata descriptions and alt text to images, posts, and pages throughout the site.
Overall, the website needed to have fewer clicks, meaning that the user's path from initial login to their desired destination on-site was short, efficient, and involved only a few "clicks" of the mouse. In order to improve the user experience, we renamed pages to make them more user-friendly.
To make the website even more informative – and to make this information easily accessible to visitors of the site – we created new pages for Helpful Resources, Grief Support, and the Video Library, as well as downloadable PDFs for high-demand resources like the Funeral Planning Checklist and Frequently Asked Questions (FAQs).
Implementing a resource block on each page was another method we used to improve user flow and make content more accessible. These resource blocks are located in the right column of the screen, and these call out helpful information and resources depending on the individual page. These blocks also contain calls-to-action (CTAs) for James H. Cole's ecommerce website (Custom Tribute), in order to provide users with a better understanding of the products offered, such as caskets, urns, and jewelry.
Content
More than just improving the navigation, we also wanted to better the user's experience by increasing content richness throughout the site. While the original James H. Cole website touched on the company's history and legacy in Metro Detroit, we expanded these features even further to include historical images, videos, and more.
Not only did the history of James H. Cole Home for Funerals receive its own page on the new site (Our History), a new page was also created to feature each member of the company's staff (Our Caring Staff) and biography pages were made to spotlight each caring member of the James H. Cole team. An additional page was also created for the James H. Cole Legacy Foundation.
Services pages were further defined and broken up to make it easier for users to find their desired content. This included the creation of a Special Services page that outlines the various specialty services offered by James H. Cole, such as horse drawn carriages for casket processions.
The Finished Product
The new James H. Cole Home for Funerals website is clean, sleek, fresh, and easily navigable. It brings key pieces of content right to the forefront, so users don't need to go searching for resources. This new website showcases James H. Cole's rich history and involvement in the Metro Detroit community.
In the latest chapter of our relationship with James H. Cole, we will be assisting in the creation of blog content for the website so users can find the information they need even easier! We are also responsible for monitoring and maintaining WordPress security on the website.
We're proud of what we've accomplished together so far, and we're excited to see what the future has in store.