Kardiatonos: Website Design & Development
Kardiatonos is a privately-held research development and licensing company focused on diagnostic and therapeutics for chronic illnesses. Founded in 2015 and headquartered in Rochester, Michigan the company is comprised of scientists and strategic partners who are working towards diagnostics and therapies that detect and treat chronic illnesses. Their initial target, Atherosclerosis and Cardiovascular Disease (CVD) is a chronic illness that affects millions of people globally each year.
A new digital presence
Kardiatonos came to Media Genesis looking for a marketing and development company to give their newly formed company a cohesive, branded, professional presence within the biopharmaceutical industry. Before coming to Media Genesis Kardiatonos had a single page website that lacked content and messaging and was missing a company identity.
More than meets the eye
Media Genesis worked with the Kardiatonos team on two project inactivates, a branding and marketing project along with a new website design and using the Drupal Content Management System (CMS). These website development project included the following deliverables;
• Single page, temporary website
• Domain research and acquisition
• Competitor Benchmarking
• Website Design & Development
• Responsive Design
• Drupal 7 Content Management System
• Secure Portal
• Website Hosting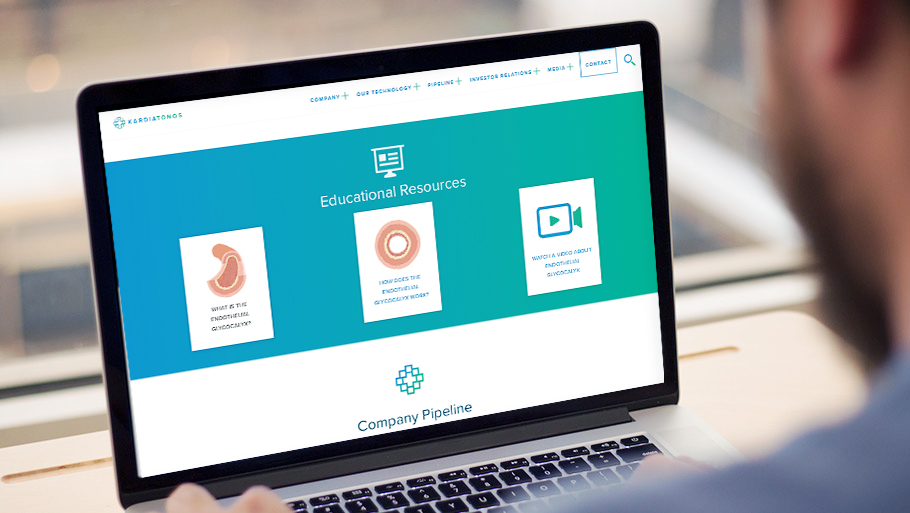 In addition to the website design and development project, a Secure Portal was also created within the Kardiatonos website. The portal is used for confidential file sharing and file storing for the Kardiatonos team. It includes the following features;
• Login and password protected area to store confidential information
• Two levels of role based permissions, Admin & User
• Creation of new users, upload, download, view, and delete files
• Send and add messages to users
• A system for titling, tagging and categorizing assets
• Ability to assign user access levels for asset permissions
• Ability to sort files by most recent, alphabetically or to search for keywords
• Secured directory to protect assets, tracking of files downloaded
The website launched in December 2016 and the Kardiatonos team has been working on the company's forthcoming diagnostic and its pre-clinical therapeutic.
Media Genesis worked with the Kardiatonos team on two project initiatives, a branding and marketing project.