Paulson's: CMS Selection & Website Development
Paulson's is a family-owned audio and video company that specializes in all entertainment and custom electronic needs. The company was established in 1992 by Ken Paulson, whose passion for his clients and enthusiasm for technology inspired him to develop his company into the successful enterprise it is today.
Over the years, Ken was joined by his sons, Kris and Dan, who, under the tutelage of their father, have become the most knowledgeable custom electronics dealers in all of Southeast Michigan.
CMS Selection & Website Development 
Paulson's came to Media Genesis requesting a new website that not only reflected their knowledge and experience in the field of custom electronics, but also expressed their client-oriented approach to business. In order to achieve this, we started by benchmarking companies (and their websites) in the field of custom electronics to get a feel for what elements were working on the original Paulson's website and what could be changed.
Once it was determined what elements would be kept and/or added to the website, we narrowed down the functionality and appearance requirements to help choose a content management system (CMS) that fit Paulson's needs. This made it possible for Media Genesis to put together a website that met all of Paulson's design, functionality, and navigability requirements and, therefore, making the website better for the user.
At the end of the project, Media Genesis provided a CMS user manual to the team at Paulson's in order to demonstrate how to use the CMS properly and implement updates when necessary. This allowed Paulson's to independently make changes as needed, offering more flexibility to alter or change content such as product descriptions or information about specials.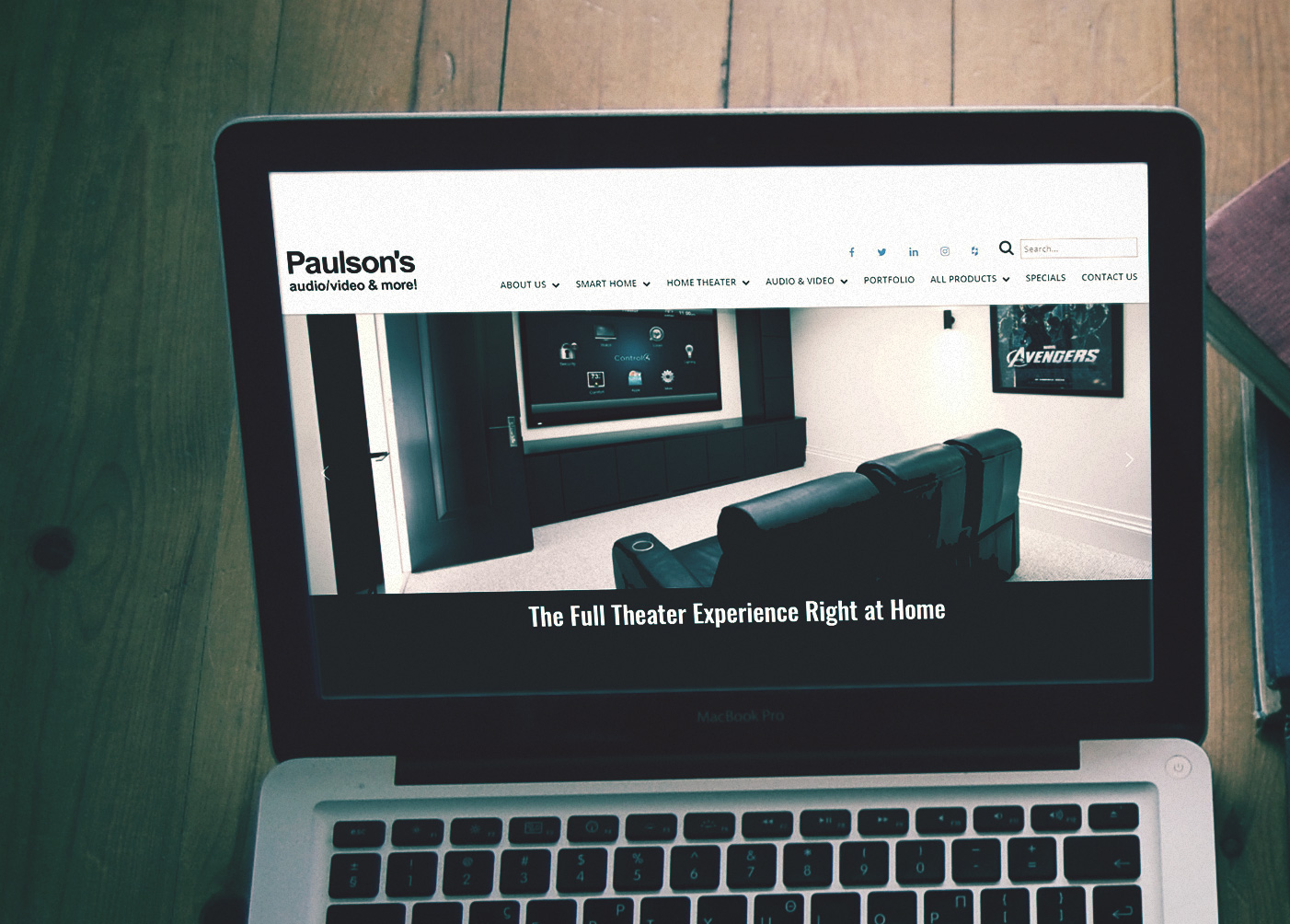 Product Landing Pages
Media Genesis worked alongside Paulson's content team to create unique landing pages for product categories such as stereos, speakers, televisions, etc. By doing this, Paulson's and Media G made it easier for customers to search products by type without being forced to scroll through an intense list of all the electronic products that Paulson's offers.
This is just another example of Media Genesis helping Paulson's to put its client-first mentality into practice.