Society of Automotive Analysts: Quarterly Insight Videos
The Project
Media Genesis (MG) partnered with the Society of Automotive Analysts (SAA) to produce their quarterly insight videos. SAA wanted these videos to feature an SAA client who would speak about the trends in the automotive industry from the previous quarter as well as look ahead to the next quarter.
Prep, Filming & Editing
Filming took place at the Media Genesis film studio, where we put together two different setups for the shoots. The first shoot had a more formal setup in which the host and guests were seated around a news-anchor-style desk. This included a television monitor to display the SAA logo as well as a gray backdrop to provide a professional background to the set.
The second shoot had a more relaxed atmosphere with armchairs for the host and guests. We incorporated plants for greenery as well as a coffee table for added texture. The set was built at a diagonal in order to accommodate multiple angles, allowing us to create better variety when filming and editing.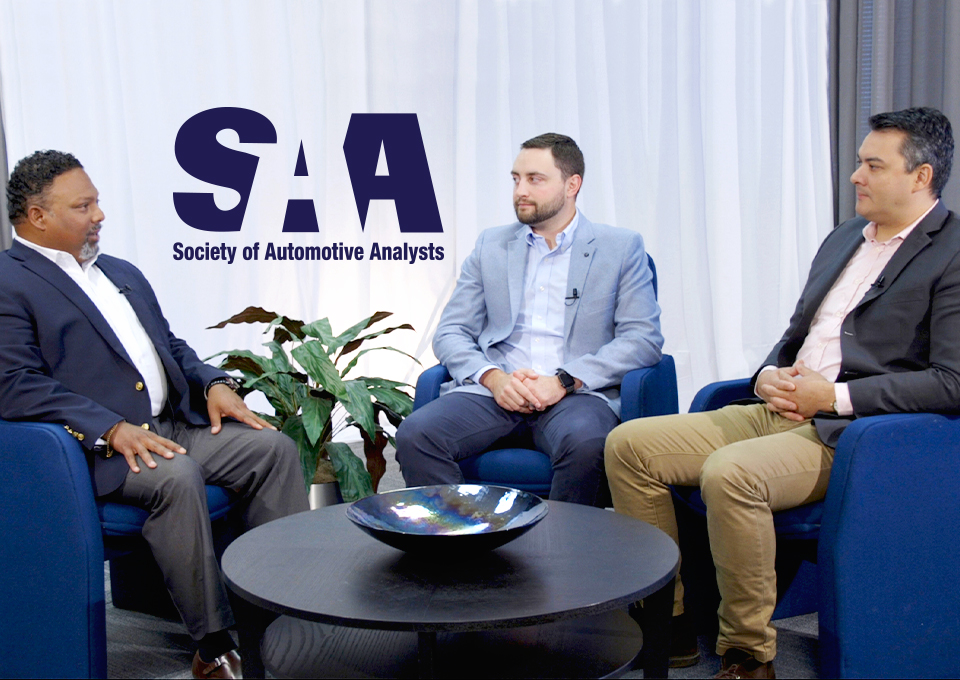 All encompassing, MG handled the studio design, setup, lighting, directing, and camera work. Our goal with each of these film shoots was to create an atmosphere that best represented the Society of Automotive Analysts.
In addition to filming the segments, the MG production team edited the videos and created the intro and outro segments for the pieces that will be used for all SAA Quarterly Insight videos moving forward. In order to do this correctly, we made sure to perfectly capture the SAA voice and tone. Upon project completion, there was a seamless transition between the SAA video content and the intro and outro sequences.
The Outcome
We are very excited about the outcome of these video projects, and Media Genesis will continue to assist the Society of Automotive Analysts with their quarterly insight videos moving forward. We're eager to see where this partnership takes us in the future.