The Charles H. Wright Museum of African American History: Billboard Creation and Campaign Management
The Charles H. Wright Museum of African American History, located in the cultural hub of Detroit, is the leading institution dedicated to the African American experience. Founded in 1965 by Dr. Charles H. Wright, its current location was opened in 1993.
Partnering With Media Genesis
Media Genesis was contacted by The Wright Museum about helping them expand brand awareness of the museum throughout the state. After initial conversations and a formal intake meeting, a plan of action was decided and presented to The Wright Museum. This included the creation of billboards as the first step, with additional collateral to follow.
Billboard Ideation
Understanding that the goal of the campaign was to show the inclusiveness of African American History as part of American History, the in-house team at Media Genesis began by brainstorming an aesthetic that would unify the multiple billboard designs. Finally settling on utilizing historical imagery to show the shared cultural heritage the museum offers, unifying behind the slogan MG created, "Know the Past, Share the Future."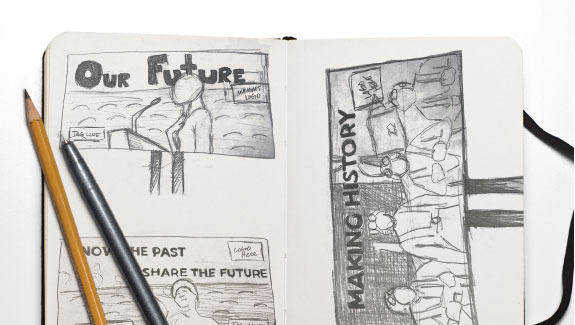 Design Creation
Having completed the analysis phase of our process our design team began sketching out multiple thumbnail designs, then moved on to digital renderings. For inspiration, our team looked through many historical images, settling on creating original representations of the Tuskegee Airmen and Martin Luther King Jr. Mock-ups of the billboards were then presented to The Wright Museum and approved.
Campaign Launch
Media Genesis worked on behalf of The Wright Museum to secure billboard placement across the State of Michigan. The first digital billboards went up in mid-January and will be on display in different regions throughout Michigan. Multiple standard billboards are to follow in February. The campaign is expected to have over 5 million impressions once completed.