American House Digital Marketing Initiatives
American House Senior Living Communities provides independent and assisted living, as well as memory and respite care services, to seniors 55 and above throughout the United States. In addition to their website redesign and revamp, which you can read about here, American House came to Media Genesis to improve and expand their digital marketing efforts.
Media Genesis began this process by establishing a baseline. By taking a closer look at the American House campaigns and traffic at the time, we were able to better gauge what actions should be made top priority and further orchestrate a plan moving forward.
Marketing Conversions
A significant amount of time was spent on testing in order to improve marketing conversions. A marketing conversion, as the name suggests, occurs when someone visits the website and then converts into a customer. While this is the typical definition, a "conversion" is something that can be defined by each individual company depending on their needs at the time. For American House, multiple actions have been defined as conversions in the past, from users signing up for a community tour to users reaching out for more information.
Part of our effort to improve conversions included making the website more accessible for all device types (desktop, mobile, and tablet), and focusing on specific geographical locations using a process known as geotargeting. This allowed us to narrow in on specific cities, zip codes, and designated market areas (or DMAs) most relevant to American House and its communities in order to broaden user awareness. We were, therefore, able to provide the most relevant content to users in those areas, such as information about the American House community closest to them.
Display Ads
For American House, we chose to focus on two specific types of display ads for their advertising: responsive display ads (RDAs) and fixed ads. A responsive display ad is one that self-optimizes based on the device you are using. For example, if a user is on a mobile device, he or she may see the display ad as a banner, while someone on a desktop computer might see the same ad in a square on the side of their browser.
A fixed ad is an ad on your website that does not move. It remains in the same position, always available to your users. Because this type of ad does not change position or content, it can be helpful to increase impressions (the number of people who see the ad) and the Click Through Rate (CTR) (the percentage of people who click on the ad).
Media Genesis worked with these two ad types in order to find which format worked best for American House and its audiences. In addition, we also tested the usage of GIFs (moving images on a loop) when compared to static advertisements. We set up these separate ad groups and then compared the Click Through Rates in order to determine what worked best and where changes needed to be made moving forward.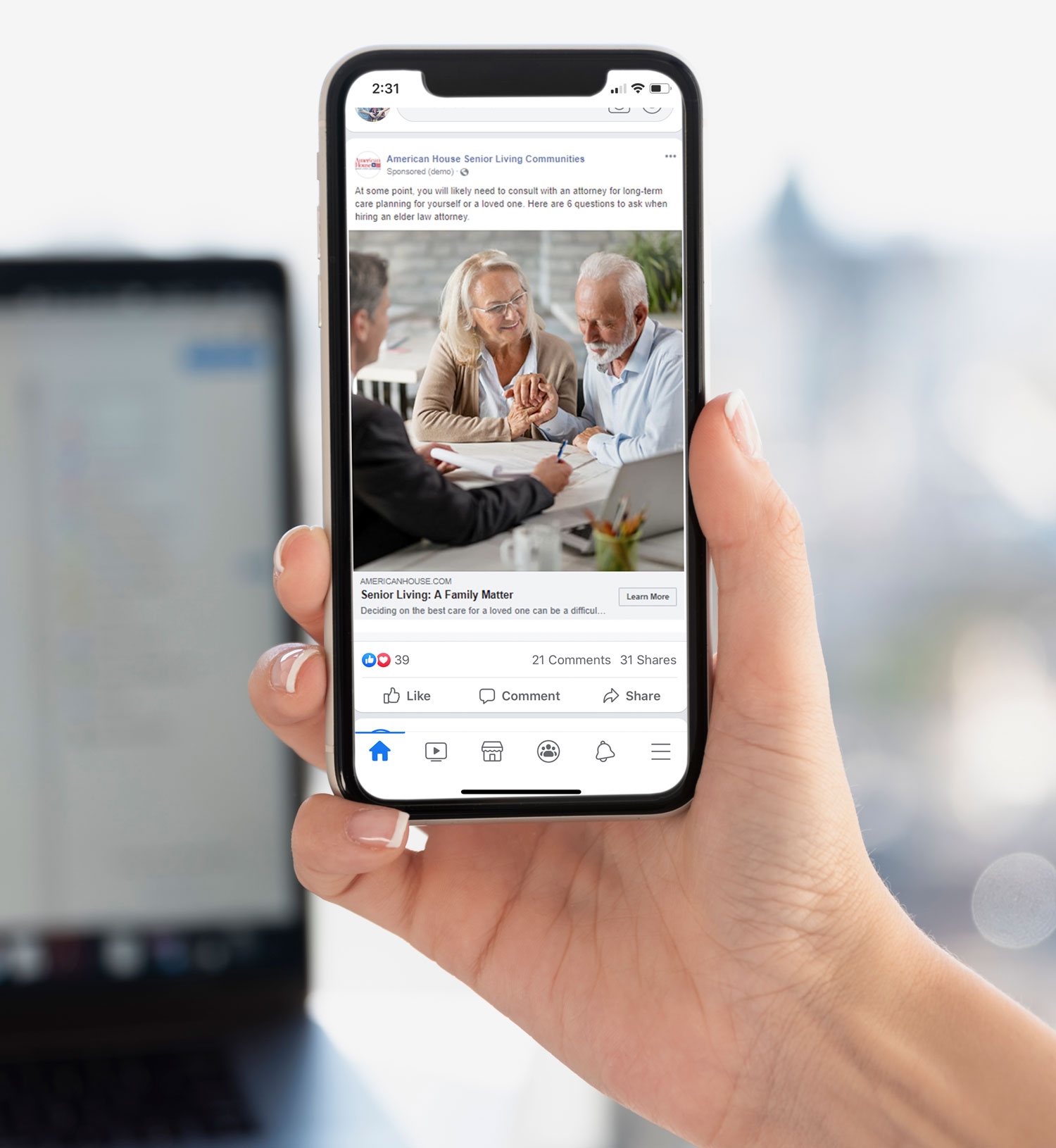 Audience Pools and Funnels
We used ad funnels to further prioritize audiences into pools that could be more easily understood and communicated with. Users are moved up through this funnel the more they interact with American House or take specific actions. The lowest (and largest) tier of an ad funnel is typically made up of people who have visited a company's website at least once. Then, for every action that user takes on the website (these are pre-determined by the company and can vary from campaign to campaign), the user is moved up into higher tiers of the funnel. For example, a user signing up for an email newsletter or filling out a contact form might move them into a new tier.
When we look into revamping search and display marketing, we strategically plan these channels, audiences, branding, acquisition and re-marketing approaches. Based on these approaches, we use key performance indicators (KPIs) to determine performance over scheduled periods of time. This includes visitors, sessions, pageviews, goals and session durations. These KPIs help us produce more engagement, conversions, and lower acquisition costs. These are the high-level approaches we took in order to produce the following metrics.
At Media Genesis, we've worked with hundreds of clients on thousands of campaigns, and we firmly believe that digital marketing is never finished. We don't simply turn on a campaign and walk away. It is important to be constantly evolving, adapting to the wants and needs of your audiences, and implementing strategies that best present your message, products and/or services to the right people. In 2019, we made over 36,000 changes to the American House marketing campaigns alone – and that was for just one of the marketing platforms used. This number includes changes that were made to all aspects of the campaigns, including targeting, bid adjustments, keywords, landing pages, copy, and assets.
American House has been a wonderful partner to work with on these digital marketing initiatives, whose flexibility and responsiveness have helped make our joint efforts successful. Digital marketing is an ever-evolving space, and, as a result, campaigns require constant care and attention. This is especially true when it comes to companies, like American House, with a large number of separate communities – each with its own individual marketing needs. Managing these campaigns means constantly checking in on progress and being available to make quick, efficient adjustments whenever the need arises.
At Media Genesis, we know how important digital marketing is to your business, and that's why we offer full support to meet and exceed all your digital marketing needs. If you are interested in learning more about how we can help your company, connect with us at inquiry@mediaG.com or call us at (248) 687-7888.