James H. Cole Home for Funerals: E-Commerce Website Development
James H. Cole Home for Funerals is a family-owned funeral home located in Detroit, Michigan that has been servicing the Metro Detroit area for over 100 years. James H. Cole came to Media Genesis with a need for a new, improved website for their e-commerce store, Custom Tribute.
Content Management System (CMS)
Based on James Cole's needs, we determined that a WordPress CMS would be the best fit for their e-commerce site. This would allow them to easily add new products, edit pricing and details, and manage the web store as needed.
In addition to building the website, we also created a CMS training manual – later conducting a training session – in order to help guide James Cole through the admin of the site. This process allowed us to walk through the functionality step-by-step, so James Cole could easily transition into the role of administrator on their new website.
The Importance of Highlighting History
As an e-commerce website separate from their funeral home website, James H. Cole wanted to ensure that any and all users who visit the Custom Tribute site would be aware of the James Cole legacy and customer-first mentality. To incorporate this into the site, we include a segment on the homepage that features a history and About Us section to inform users about the family.
Given that this is an online e-commerce site, users who are not from the Metro Detroit region have the ability to virtually meet the Cole family, discover that they are a real brick-and-mortar business, and that James H. Cole Home for Funerals has been in business for more than 100 years.
Custom Tributes is a public-facing website that is promoted to everyone, not just Metro Detroit funeral home clients, so it needed to be able to stand on its own with information about James H. Cole, offered services, and more. In order to complete this directive, Media Genesis also incorporated links back to the James H. Cole Home for Funerals site throughout Custom Tributes. This made it simple and easy for users to navigate from one site to the other, as well as building Search Engine Optimization (SEO) richness by creating bridges between the two sites.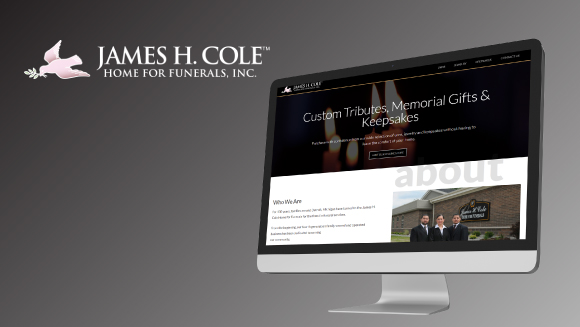 Unique Features and Functionality
For some product pages, a dropdown menu was needed for users to be able to select from a variety of different options. Users can choose everything from an urn's color or metal to the desired birthstone for a piece of jewelry. Media Genesis coded this into the page template of relevant items so users can pick their desired style(s) quickly and without hassle.
James H. Cole also wanted to incorporate a donation page which would allow family and friends to donate money to the funeral of a loved one. While this section existed on the old James Cole website, it used an iframe and was generally out of date, which resulted in it lacking mobile responsiveness (meaning it could not be easily viewed on a mobile device). Because the new James H. Cole Home for Funerals website was built using an updating version of the PHP coding language, Media Genesis knew that it would be very difficult to attempt to utilize this old page on the new website.
As a result, Media Genesis used a WordPress plugin to create a new Make a Donation page connected to the Custom Tributes site. This page provides a form for users to fill out, including an editable text field for the donation amount. Users can then check out using PayPal, making the process quick and streamlined. And, unlike the old version of the page, the new page is completely up-to-date, making it more user-friendly, secure, and responsive on mobile.
"Working with Media Genesis has always been a wonderful experience. I have had about 4 separate projects that they have assisted me with, and every time they were patient and available to me whenever I needed something. Working with web development companies can be a very daunting experience, but Media Genesis has definitely perfected the craft of being customer focused and budget friendly, while still offering a superior service." Antonio Green, Director, James H. Cole Home for Funerals
If you're interested in learning more about our work with James H. Cole Home for Funerals, you can check out our redesign and development efforts on their main website. At Media Genesis, we are proud to have been a small part in the 100-year history of James H. Cole, and we're excited to uncover what future projects still lay in store.