Ziebart Franchise: Sitefinity CMS and Unique Domains
Media Genesis (MG) worked with Ziebart International Corporation, a company specializing in vehicle appearance and protection services for over 60 years, to design and build two new websites – Ziebart Retail and Ziebart Franchise – which were initially both part of a single website. Both projects took place simultaneously, and you can read more about our efforts with the Ziebart Retail website here. This article will focus specifically on our work with the Ziebart Franchise website.
Achieving Separate Domains
While the Ziebart Retail and Ziebart Franchise websites are related in many ways, they are two completely separate branches of business under the Ziebart name. So, when Ziebart expressed interest in splitting these websites and giving them each their own separate domain and identity, Media Genesis put together domain recommendations and a plan to help build Ziebart's Search Engine Results Page (SERP) rankings for the newly created domain.
Ziebart uses the Sitefinity content management system (CMS), and, prior to working with Media Genesis, the Ziebart Franchise website existed as a subdomain of Ziebart.com, meaning that the franchise website was nested within the retail website. The primary challenge became figuring out how to separate the Ziebart Franchise subdomain from the Ziebart Retail website while still allowing both sites to exist and be editable within the already existing Sitefinity account.
The domain selected for the franchise website was ownaziebart.com. Using this new domain, the MG development team was able to enable two different URLs in one instance, so both websites could be controlled and edited using the same account and CMS. This allows the Ziebart team to make edits to both sites as needed from a single administrator account, keeping the process clean and simple. This also allowed Ziebart to have only one license for the Sitefinity CMS, keeping their annual costs down.
About the Sitefinity CMS
Sitefinity is a Windows-based content management system used around the world. The most current version of Sitefinity, 13.0.7300, was released in May of 2020.
Top users of the platform include:
Similar but Separate
In terms of appearance, it was important to Ziebart that both websites shared a similar look and structure (making it easier for users to navigate between the two if need-be), while still maintaining a degree of separation, so it is clear to users exactly what site they are on.
We created this distinction largely by utilizing the custom images and videos provided by Ziebart, including pictures of Ziebart franchise locations throughout the U.S. and Ziebart franchise owners, their families, and their employees.
Unique navigation items such as "The Ziebart Advantage" and "Meet Our Franchisees" are also present as part of the sticky navigation (meaning the navigation moves with you as you scroll down the page). These pages contain a number of custom images and testimonial videos of franchise owners discussing their experiences with Ziebart.
New Website Features
In order to further enhance the user experience, Media Genesis created a new dedicated blog which didn't exist on the previous Franchise website. This new content will help grow the new ownaziebart.com domain and provide resources to existing and prospective franchisees.
We also designed and implemented a Call-to-Action (CTA) resources block on nearly all of the site's pages. This provides users with the option to fill out a contact form or submit a franchise request directly from the page they are on. Users no longer have to search for contact information – it's easily available to them throughout the site – making it more likely that a user will take action while browsing the site.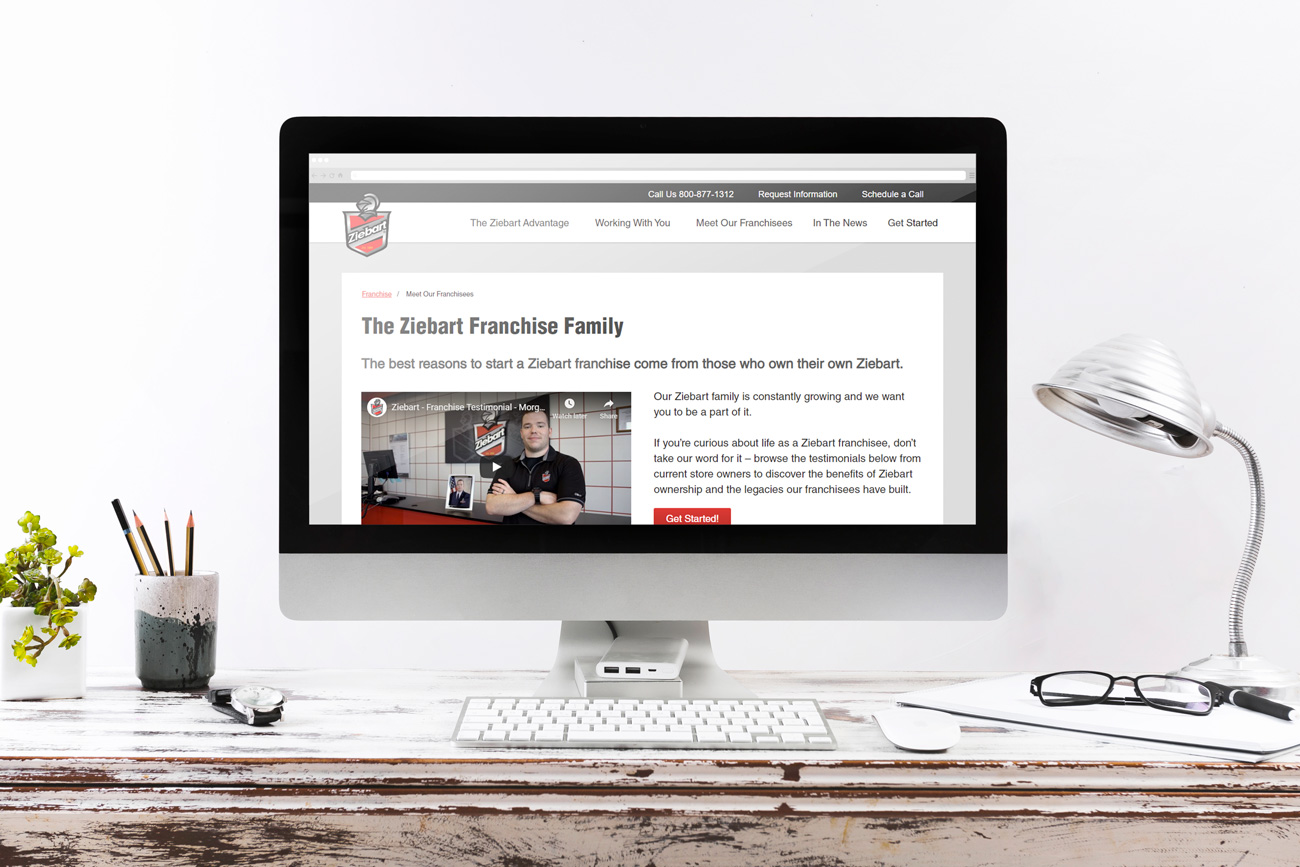 Homepage Content and SEO Updates
After taking another look at the information we gathered from Ziebart's Audience Message Action (AMA) workshop and the benchmarking reports, and after talking to the Ziebart team about their preferences, Media Genesis designers created a homepage layout that included important franchise statistics pertinent to current and prospective franchisees. Using JavaScript, we implemented a spinning effect on these statistics that counts up the numbers, creating movement on the page in order to draw the user's eye.
The new homepage also features more consistent Ziebart branding with custom Franchise videos that the Ziebart team created. These allow users to virtually meet the franchise team and lists three easy steps toward becoming a Ziebart Franchise owner. The purpose of this was to make the process as simple as possible while simultaneously underlining the camaraderie and teamwork that goes into every Ziebart Franchise location.
Further content updates were made throughout the site in order to match the new Ziebart voice and improve overall Search Engine Optimization (SEO). Meta data was also written and edited for each of the pages on the website in order to improve the site's SEO and search engine ranking.
From planning to completion and everything in between, this was a very productive project, and we are happy to have had the opportunity to work with Ziebart on not one but two brand new websites. Ziebart has also signed up for a Media Genesis Managed Services Plan to provide ongoing needed deliverables for website maintenance, analytics reviews, SEO monitoring, and security and software updates. We look forward to our continued partnership with the Ziebart team.