Creativity, Teamwork & Custom Cornhole Boards
At Media Genesis, it has been our experience that a healthy dose of competition is just the thing to form strong bonds and keep open communication between coworkers – at least, when it comes to cornhole that is!
Yes, you read that right: cornhole.
Every year, Media Genesis hosts a summer picnic for our employees to get together, relax, and have fun. The focal part of the picnic – and something we look forward to every year – is our cornhole tournament.
What's at Stake?
Trophies. Both the tournament winners and losers (the team that comes in dead last) get awards; a golden corncob if your team is victorious and a golden rubber ducky if you could…well…use some practice.
Bragging rights. Cornhole tournament winners have a full year to revel in their victory, proudly displaying their team trophies on their desks and reminding everyone in the office who the real kings/queens are of bean bag tossing.
The Boards
Still don't believe we take our cornhole competition seriously enough? We like to add an extra flair to our competition by creating completely custom cornhole boards.
The boards themselves are hand-crafted by members of our staff and then sent to our design team to decorate however they see fit. This year's newest boards include a punk-rock tiki head and a Campbell soup can with a certain cornhole 'je ne sais quoi.'
Each year, our staff takes great care to create boards that both encompass Media Genesis' culture – creative, innovative, and fun – and our love for cornhole. (What can we say? It's a summertime classic.)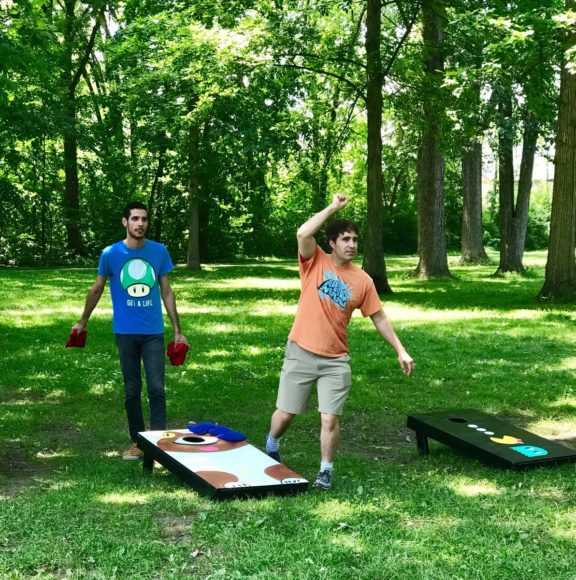 Our Philosophy
Even in the world of digital media, staff bonding matters, and we find our cornhole tournament a fun and effective way to bring our entire team together for a half day of fun and friendly competition.
And, sure, it might be easier to play with a set of pre-made cornhole boards, but doing something the "easy" way isn't the Media Genesis way. Whether we're talking about cornhole boards or digital media, we believe in putting in the work necessary to exceed expectations.
For our cornhole tournament, this means creating boards that invoke the Media Genesis spirit and instill a fun, creative atmosphere in which our entire office family can relax and bond as a group.
At the end of the day, it really isn't about winners and losers (cliché alert – we know), but about coming together and having a good time doing something that is now a beloved Media Genesis tradition – custom boards included!
Want to see our cornhole boards in action? Check us out on Instagram (@mediagenesis) for pictures of our boards and this year's tournament winners. Or, if you'd like to see what we do when we're in the office, you can browse our client work on our website.