Traveling to Paris: Where to Go, What to Do, and Tech Tips
With 40 million visitors to the greater Paris region annually – it is no doubt the tourism capital of the world. This post will provide practical advice on how to stay connected, where to go and what do in the "city of lights." While the what to do is specific to Paris, the tech tips will be useful anywhere you travel. Enjoy!
General Tips
First, let's be practical! You will likely want to plan a few things in the US before your trip. Here are a few of the top items to take care of:
1. Make a copy of your passport and your travel documents – store them separately from your passport. While not as necessary a consideration for those travelling to France, international travelers should register for the STEP program and check out the travel advisories from the State Department.
2. Call your credit card companies (at least one) to advise them of your travel and date – if your charges are denied and they try to call you, you may not even realize it. Some cards don't work as well in France. Mastercard and Visa are good options. People use cards everywhere now, but French cards use pin codes, so be ready for people to ask for you to type in a code even though you don't need one.
While having some euros with you is helpful, you can use credit cards with no minimums almost anywhere. That being said, having 200 euros is a good idea just in case. If you have a debit card, make sure it works abroad – generally, I found that credit card fees are less than any other solution (exchanging money or debiting from abroad.)
3. Contact your carrier – make sure your phone is unlocked and find out about their international plans. Carriers such as Verizon offer $10 a day. You will have .5GB and then you will be slowed down or you can pay more. You can also get a local SIM card – but that is a bit more complex. If you don't have this figured out, you may be slammed with fees (e.g. 50 cents a text, etc.). Plan ahead if you want to stay connected.
4. Electronics – the current is different from what we use in America, so you will need a plug adapter. If you have a lot of USB devices (who doesn't?) make sure to bring a multi-USB port as this will simplify your life. Keep in mind that Wi-Fi can be found in many places but it is sometimes difficult to connect (very long passwords or setting issues with Wi-Fi). Connecting your phone is usually easy and you can then use it as a Hotspot for your laptop. I recommend trying it at home first to make sure you understand how it works.!
Lastly, your US phone may drain quickly due to roaming. I highly recommend you bring TWO power banks on your trip. Take one with you and leave the other one charging at your hotel; that way, you always have a full power bank available. While the 5k or so milliamps (5000 mAh)  is suitable for most quick charges, I'd recommend a 10k milliamps (10,000 mAh) power bank as this will keep your phone charged for the whole day.
Make sure to bring extra charging cables for all your devices. It's wise to leave the US fully charged and with all your devices and apps updated. And, if you plan on taking pictures, make sure you have plenty of space and a backup. Using iCloud or other similar tools is a great way to back up your phone and give you additional room in case you take lots of photos and videos.
5. Apps. Many people use What's App in Europe. Another suitable option is Facebook Messenger. Both are good solutions to stay connected with others using Wi-Fi for "free" calling. Make sure you set this up and configure this at home if you haven't used these before. You may be surprised at the quality.
It can be difficult to set up What's App with foreign numbers so you may need to call that number, cancel, add it to your phonebook and then send a what's app message. This work around seems to fix many issues.
Travel
Arriving at the Airport:
Paris has two major airports, Charles De Gaulle (CDG) and Orly (ORY). The good news is that you can use an uber to get to and from the airport – and taxis end up being roughly the same cost for anywhere in central Paris. It's a fixed cost around 50 euros and makes sense if you've travelling with family or more than 3 people. Public transportation from the airport is also very convenient, but after a long trip (and carrying around a lot of luggage) a taxi or uber can be really helpful.
Tipping in France is generally less than in the US – drivers are perhaps the one category that is a bit higher (i.e. 10% of the fare) whereas in restaurants 1-3 euros is customary.
Traveling Within Paris:
Paris is by far best experienced on foot. Much like London or Chicago, it has a wonderful public transportation system that includes a full metro system and buses. The network starts with the TGV and TER networks which connect city to city – the TGV are high speed trains. You can find tickets on oui.sncf or go to third-party websites. Do shop around as departure times, dates, and different websites will lead to different prices.
The high-speed trains are very fast and often better than inner country flights. TER, however, are much slower. Once in the city, the RER is an inner-city rail system that is inexpensive and easy to use. It's sometimes good for longer hops within the city. This is what you would use to go to and from the airport.
The subway (metro), however, is really ideal. You're never too far from a subway stop, generally 5 minutes on foot. Two cautions here: subway cars can get very full at rush hour, and second, watch out for pickpockets.
Buses fill out the network very well. Tickets are easy to get and cheap – less than 2 euros – and can be used for two hours. You can pretty much get anywhere in Paris within 30 minutes using the buses and subways. Travelling through these can feel daunting; however, the staff is very helpful and speak English. At the entrance of the subway, tell them where you want to go and they will direct you – often printing out directions for you that include walking from the subway station to your destination.
Want to travel like a Parisian? Download the RATP app. This app is my go-to – I even use it on walks. It will not only give you quick, Wi-Fi efficient directions across ALL public transportation (RER, Metro, Buses, and even Velib – bikes for rent), it will also tell you when trains and buses will be arriving at your stop as well as which part of the subway to board if it's very crowded (i.e. back of the subway) – all with good accuracy.
Get your public transportation tickets in batches of 10; it's much less expensive this way. If you want a bit of fun – download the LIME and BIRD apps to ride electric scooters. These are fun, easy to use, and relatively inexpensive (5 euros for a 20-minute ride or so); however, be careful – there have been at least two scooter-related deaths in Paris so far. Scooter users tend to drive fast and traffic in Paris can be challenging.
My top recommendation for travel in Paris? Walk! You will discover the city much better this way. Bring water, a backpack, great shoes, and a map and you will be good to go!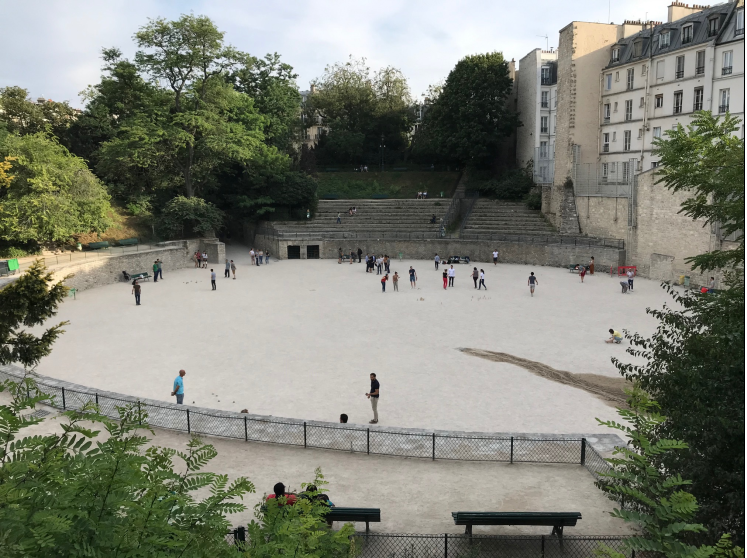 Traveling Outside of Paris:
Unless you plan on going outside of Paris, I wouldn't recommend getting a car. Public transportation is well established and a car in the city is a liability. In fact, it's increasingly a question of whether or not you should take one at all – even when touring outside the city. If you must, you will find that Waze works great in France. I recommend bringing a device so you can display it more easily in a car (those heating vent louver holders are great for travel). Also check out Mappy.fr as a good alternative to Google Nav. This can also be a good way to find stores and other destinations that may not be found easily otherwise. 
What to Do:
It's nearly impossible to document all the what-to-dos in Paris. There are, however, a few types of activities that visitors should be aware of:
1. Museums. Paris has about 130 museums. You read that right. If you add temporary exhibits and other less traditional museums, there may be as many as 200 in the city at any given time. These range from Art (Louvre, Quai D'orsay, Pompidou, Palais de Tokyo) to Natural Science and History (Invalides, Quai Branly, Paris Aquarium, Cluny) and many others.
Generally, admission is around 10-15 euros and many of them are free for kids. I found that 1-2 museums a day is a good pace. While the Louvre (nearly 10M visitors a year)  or Centre Pompidou (modern art museum with 100,000 works) is on everyone's list – many "secondary" museums are absolutely delightful. I'd recommend Quai D'Orsay  (3M visitors annually; Degas, Monet, Van Gogh etc.)  and the Palais de Tokyo (modern living artists) as great alternatives.
A few of note are the Paris Aquarium, which is a refreshing and fun change from the busy Paris (try the feeding and petting of the fish), and the Ateliers Des Lumieres which shows floor to ceiling video artistic presentations (currently Van Gogh and a Japan Feature). I would also recommend Branly with its exceptional collection of art from indigenous peoples in Africa, Asia, and the Americas. The Invalides Army Museum is also a very good reference for WWII – as well as a historically significant place. It was built at the order of Louis the XIV and subsequently raided for cannons which were then used in the taking of the Bastille – thus launching the French Revolution.
2. Parks and Public Places. Hausmann is credited for bringing light again to the city of Paris during a major urban modernization phase from the mid 1850-1870 which continued through 1927. It removed overcrowded neighborhoods and created the familiar slate roofs and avenues we think of when we think of Paris. It also added parks, fountains and public monuments.
Well before that time, starting in  1786 and for 12 years, Paris moved the 6 million remains from the many cemeteries in Paris into the Paris Catacombs (which can be visited for a cool and macabre experience). These spaces created were then used as parks and helped create the many smaller green spaces throughout the city.
In the larger park categories; visit Jardins du Luxembourg, Parc des Buttes Chaumonts, Centrally located Tuileries, modern Parc André Citroën, Champs de Mars at the foot of the Eiffel Tower, Henry IV's Places des Vosges, Jardin des Plantes or the quaint Rodin garden. A simple approach is to stop at all the green spaces along the way as you walk. There's often water fountains available that are fed from freshwater springs. (Usually water is safe to drink unless otherwise indicated.)
It's common to find attractions within these parks but try enjoying them the French way: grab a picnic lunch, a book, and find a seat in the shade. Bringing a small sheet is a great way to travel rather than a bulky or heavy blanket.  Outside of parks, plazas, sculptures, and Quais abound – Paris also puts up sand near the Seine river every summer for Parisians to enjoy sunshine and a beach-like feel. Also, keep a lookout for open air markets that have food and other regional items.
3. Historical Sights. Historical sights are throughout the city. Particularly in the center of Paris, there is a high density of amazing buildings showcasing the richness of the city's architecture. There you will also find common Parisian sights – whether it's the view of the Eiffel tower from the Trocadero gardens or L'ile de la Cite with the Sainte Chappelle. While Notre Dame is currently undergoing repairs, you can still walk around and see the progress of the renovation from the huge fire that struck in early 2019.
Generally, you can walk into any public building. It may look daunting with armed guards but this is normal in Paris where there is heightened security at all times. For example, you can go see the inner courtyard of the Invalides where you can sometimes see formal presentations of medals or visit the lower level of Sacre Coeur next to Notre Dame. It doesn't hurt to ask if you're curious. A blue plaque typically indicates a public building.
Food and Drink
It's nearly impossible to provide a comprehensive review of food in Paris.  There are, however, a few things to be aware of:
1. Serving Hours. French have set hours for serving lunch – outside of that, you may have to resort to streetside vendors (which can be amazing), kebabs or other quick-service restaurants open at all hours. Most restaurants are open from 12 to 2 and then re-open at 8PM to serve dinner.
2. "Formules." The Formules are usually an entrée (meaning appetizer), a main dish, and a dessert for a fixed price. Usually, these can be found for 15-25 euros and are quite good. You can also order "a la carte" for individual items.
3. Charcuterie and Cheese Boards. These are usually found at all hours and, in some cases, are amazing.
4. Waitstaff. In France, waitstaff don't depend on tips to survive – a tip of 1-3 euro is suitable. In a nicer restaurant a 5% tip is also good. Typically, tip is given in cash as you don't add tip on credit card receipts. One important items of note is that waiters will wait for you to signal you are ready for the bill. It's considered impolite for the waitstaff to take your plate or bring you the bill if you haven't signaled you're ready. They're not ignoring you – just waiting for you to nod or blink.
If you're ready for the check, simply say: "L 'addition s'il vous plait" .
5. Tourist Food vs Neighborhood Bars. Honestly, it's hard to go wrong. But I would recommend trying a neighborhood bar lunch sometime – they usually have 3-5 specials (and that's it!) and sometimes those are real gems. Ask a local where a good restaurant bar is. You want a local place – a neighborhood bar (like a French cheers). It will be a bit harder to order but often it may be a better meal than the "fancy" tourist restaurants.
6. Apps. To find great restaurants in Paris, try The Fork (https://www.thefork.com/restaurant+paris) which boasts 7,000 restaurants where you can find specials and reviews.
7. Wine Bars and Cremeries. Paris is full of specialty foods. Wine bars have exploded and Cremeries are similar, serving cheese (and wine; we are in France after all.)
8. Research. Paris is all about its hidden treasures. There are many unusual venues set up in old railway stations, atop buildings, or in museums. Do a bit of research and exploring and you may find some real gems.
9. Supermarkets. sometimes you're not in the mood to stop at a restaurant (or you missed the 12-2PM timeframe) and you're not in the mood for the millions of sandwich shops you can find everywhere in Paris. No problem – stop at a boulangerie for some sweets or at a local store (Bio, Franprix, Prisunic, SuperU) to find a selection of local foods. Usually, their wine selection and pricing are great. You can find cheeses, cured meats, and all the essentials for a picnic. This is my go-to on a walk or to get a cool bottle of water. This is also where I go to bring food culinary delights back home.
Do's and Don'ts:
1.Try your French. People do appreciate the effort. Many will change to English as they want to practice their English with a native speaker. For a modern version of the Star Trek universal translator – download the Google Translate App which is a great way to communicate when all else fails.
2. Bring change for the bathroom. Public bathrooms in Paris suck. Recently, automated bathrooms in high traffic areas have been put into place. These are usually well maintained. Often bathrooms charge a small fee for usage, so bring small change (1 euro or less).
3. Watch for pickpocket and theft in tourist-heavy areas. Only bring a few items with you (leave your wallet or purse in your hotel if possible). France is generally quite safe but petty theft is more common. A common trick for pickpockets is creating a distraction – pushing or moving in a group (like a crowd of kids). It's rare, but you can lower your risk by not having visible valuables and being aware of your surroundings and belongings. Avoid putting items in your bag's outer pockets. Bring shirts or pants with zippered or hidden pockets.
4. Bring a hiking bag and water bottle. There are lots of places to load up with water at public fountains (the water is safe). A hiking bag allows you to bring a book, hat etc. I usually freeze a 1.5L water bottle to take with me – it ends up being a cold pack for would be picnic items! For the kids I bring a bit of syrup and we refill as we go.
5. Sales. Paris is wonderful for shopping. Sales are government regulated and there are specific times of year or process stores have to follow to do a sale. Traditionally, these start at the end of June and January and go for 5 to 6 weeks. The government has relaxed the rules for sales outside of that season. Do a bit of research before your trip to catch some great deals; especially with fashion.
6. Labor Strikes. Labor Strikes are quite common in France and can often seem to paralyze the country (as reported by the media anyway). In reality, they are generally well organized and, with proper planning, you can work around them.
Do searches before you leave to make sure there aren't train or airport strikes that may affect your ability to travel. Even the much-maligned Gilets Jaunes are on specific days and locations and public transportation works around those areas to mitigate the impact. As with any protest, avoid being near the site where these large protests occur.
7. Sights. Paris was designed to have a low roof line. Buildings cannot exceed a certain height. This creates a beautiful, aesthetic view. Parisians are, therefore, all about finding good spots for sightseeing. Everyone has their secret spot to get the best view. There aren't many rooftop bars – but you can find a few.
8. Greetings and Salutations. In France, it is customary to greet bus drivers, waiters, and shopkeepers. A simple "bonjour" or "bonsoir" will do and will go a long way in all these settings.
9. Jet Lag. I have found a method that works for me where I rarely (ever) have jetlag. I sleep poorly at best in airplanes so having this method has been great for me. The technique and tips I use are as follows:
On the way to France, I try to take a red eye (departs in the evening)
I usually sleep as much as possible two days before the trip and less the night before
I make a point of staying up (without taking a nap!) when I arrive in France. I stay up until 10PM the night of the arrival. Melatonin or other prescription sleep-aids can help you sleep at the right time
I avoid alcohol on the day of the arrival (it tends to make you sleepy) and hydrate, hydrate, hydrate
With this method, my body clock re-adjusts more easily. On the way back to the United States, I find that a late evening arrival works well. I usually go back to work the next day and have no jetlag on the way back. Same rules apply – stay up until 10, hydrate, and no alcohol.